News
March 2017 Update
Wait! March already? Where did December go?
Is it too late to wish you all a happy new year? Probably. Yes…
However, it's not to later to deliver a Happy 2017!!
Since we last wrote a news post we have had a bunch of releases: 6.7.8-stable, 6.7.9-stable, 6.7.I0-stable, 6.7.II-stable… and that was just for the 6.7.x branch.
Then came a whole new 6.8.x branch: 6.8.0-beta, 6.8.1-stable, 6.8.2-stable, 6.8.3-stable, 6.8.4-stable, 6.8.5-stable, 6.8.6-stable, 6.8.7-stable… and 6.8.8 is just around the corner!
A lot of releases, right? Indeed. We have switched to releasing more often, and we try to deliver as many bug fixes as possible as quickly as possible. Thank you all for your bug reports, and as always thank you for including screenshots which make it easy for us to narrow down on the problem much quicker.
Now let's not forget new features! 6.8.x was packed with new features and the recently released 6.9.0-beta adds another layer. 6.9.1 is also just around the corner with some more.
Here are a few of our favorite new features added in 6.8 and 6.9:
Ability to attach files to new posts in the front office (useful for forums) and in the back-office without saving post first
Ability to attach an image to each category and to use it as a fall-back for posts without an image in the Universal Item List Widget
Ability to attach an image to image and logo widgets instead of providing a relative filepath
Added [audio:...] short tag
Single post display is now controlled through widgets
Analytics aggregation can keep infinite history of visits in the DB. See Global Hits Summary
PhpBB3 Import
… and a lot of usability improvements.
Next stop: 6.9.1! And that's a loaded one! Stay tuned! ;)
Community Discussions Findings and Webinar
Over the last few years, many of us have seen the need to evolve community governance. Up until now, we had to focus on other priorities, but now is the time to address our needs for community governance especially in light of recent community events.
Our project has matured greatly and participation has expanded from developers and site builders to also include more content editors, designers, and marketing managers who work not only as freelancers or at Drupal shops, but also for large digital agencies or system integrators. We want all community members to be included in these community discussions so the redefined community governance serves everyone. This is an exciting time to create an even healthier future for our ever-growing community.
The Drupal Association is committed to staying in a support role as the community determines how to best evolve community governance to support everyone's needs. We started helping by hosting Community Discussions that were mediated by Whitney Hess. There were 7 sessions at DrupalCon Baltimore and 7 virtual sessions between April and May. You can find the meeting minutes here.
The Community Discussions surfaced several common needs and identified several strategies for addressing those needs.
The most commonly shared needs of the community are (in order of frequency):
Awareness

Participation

Transparency

Clarity

Contribution

Healing

Trust

Understanding

Communication

Connection

Empowerment

Process

Progress
Strategies to address those needs ranged from clarifying the responsibilities and boundaries of the leadership roles throughout the Drupal project, determining how and where to communicate community decisions, improving processes for community management, and providing easier access to documentation about leadership roles and clearly communicating what is expected of Drupal community members.
In terms of next steps, the participants were in agreement that we need to come together in a Governance Summit to start architecting improvements to today's governance structure. However, the community did not define the best way to hold this meeting. It is still unclear when and where it should be, and who should participate and facilitate. We will send out a community survey next to get input from you to answer these questions.
Attend The Webinar
We invite to you attend a webinar on July 6 at 11 am ET / 1600 BST / 8:30 pm IST hosted by Whitney Hess. Whitney will review the findings from our Community Discussions in more detail. We will record the video and share it with you afterwards, along with a written transcript.
Dial in details are below:
Video:
Or Telephone:
Dial: +1 646 558 8656 (US Toll) or +1 408 638 0968 (US Toll)
Meeting ID: 589 988 397
International numbers available:
https://zoom.us/zoomconference?m=KQN5xFuem0PrbwaqFQC3HJyEWuwQ7QHT
Thank you for your patience and participation as we tackle these big questions and move forward together as a stronger community.
Translation Teams & Language Packs
A word of thanks
Over the past months there has been a significant amount of people who have become more and more involved with e107. This is great news and highly appreciated!
In order to stimulate and facilitate collaboration among all volunteers, e107 tries to offer the best platforms given the restraints in resources such as time and money. As a first step, the organisation of the e107 translations has recently undergone some changes. More improvements to other areas will follow in due time.
Translation organisation
Thanks to our volunteers in the community, great efforts have been made to publish language packs for the latest releases of e107. To further support and coordinate the development of language packs, a new Github organisation has been created: 'e107translations'. This organisation houses the official translations of e107.
Translators are strongly encouraged to use this platform so all translations can be effectively managed and published. Each translation team has the freedom to decide how they would like to manage their specific translation and are not bound to use the Github organization for the development process. However, to be recognised as an official language pack, the final version of each language pack has to be uploaded to the Github repository.
To clarify, each translation team can choose how they want manage their own translation. This means that if you are using another way to create your language pack, you can continue to do so. Only the final version of a translation needs to be uploaded to the Github organisation.
In case you or your team are already using your own Github repository, it can be easily transferred directly into the e107translations organisation while maintaining all existing data as well as all ownership rights that you had previously. The change is purely meant to make sure all translations are stored in one place as this enhances coordination and facilitates collaboration among all translators and volunteers.
Using this platform has numerous advantages, including:
Coordination: each translation team has a coordinator assigned who is the contact person for a specific translation. Also, there will be one central place where the official translations can be downloaded. A list of teams and coordinators will be published as soon as possible.
Use of Github tools such as pull-requests, issue discussions and wiki's which enables and encourages collaboration. Every individual is able to contribute to a translation by submitting pull-requests for instance. Additionally, team coordinators can use the wiki or issues to determine standards and to communicate with the users of a translation.
It allows for further integration of the translations into the core of e107. By using Github as a platform, next steps such as integrating automatic updates of translations into e107 can be achieved more easily.
What is needed and how can you contribute?
If you are currently translating e107 into a specific language and you already have translated previous versions, please get in touch with me (Moc). The best way to contact me is through Gitter but you can also send me an email on moc [at] e107.org. This way we can exchange the necessary information and provide you with the appropriate permissions for the Github repository to allow you to manage the translation in however way you want to.
If you are interested in contributing to a particular translation which is currently not available or not finished, please contact the coordinator for the specific language that is being translated into. A full list of the all the teams can be found on the organisation's team's page. If you cannot find the coordinator, please contact me. If the team is using Github repositories, you can easily contribute by submitting so-called pull requests. More info on those can be found through the links which are added at the end of this post.
Once again, thank you community for providing the currently available translation of e107. Being able to use e107 in your own language stimulates the growth of e107 across borders and should be highly valued.
Feedback on the changes that were made is greatly appreciated. Please join in our Gitter chatroom to have a chat. This is also the place to go to if you have any questions about the new translation organisation structure.
Useful resources
To learn more about how Github works and to find more information on the translation standards of e107, please check the following links:
Thanks again, and see you soon.

Moc
DokuWiki Plugin v1.9.0
The Geeklog DokuWiki Plugin v1.9.0 is now available for download.
The DokuWiki Integration Plugin for Geeklog provides an integration with your Geeklog v2.1.1+ website. This plugin is based on DokuWiki 2016-06-26a "Elenor of Tsort", " which is the latest release at the time of this writing.
If you find any bugs or wish to request a feature, please add them to our issues tracker.
Joomla! 3.7.2 Release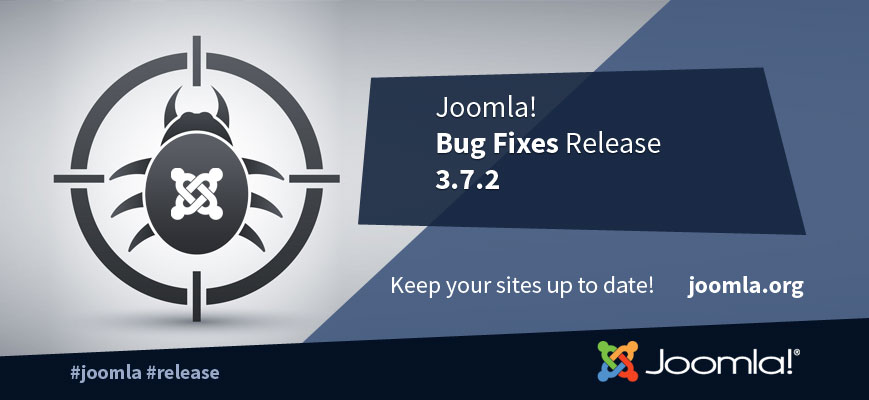 Joomla! 3.7.2 is now available. This is a bug fix release for the 3.x series of Joomla. This release fixes some bugs in file mime checks, module page filtering as well as some other bugs and several other minor improvements.
This release only contains bug fixes that were inadvertently introduced in recent version and is focused on stabilising the 3.7 series by rectifying them.
Nucleus CMS is Back (Sort of)
Despite project close announcement one and a half years ago, some enthusiastic Japanese developers and users have been maintaining Nucleus CMS core.
And today, we are pleased to announce Nucleus CMS 3.70. This is a direct descent of the original Nucleus CMS, supports the same multiple languages.
Major fixes and improvements in this release are including (but not limited to) the following:
Enforced password security using phpass library instead of md5 hash
Default character code set is now utf-8, not iso8859-1
Added new event PreLoadMainLibs
Upcoming version 3.71 is pre-released in Japanese as well. New features in 3.71 are:
Fixed vulnerability described in VCE-2011-3760.
Support for PHP7 (Fixes in installer, embedded wrapper for mysql functions, etc.)
[New] Duplicate Item button in the item list screen
[New] Now you can arrange category order
... and more!
Nucleus CMS 3.70 is available for download from
download page
.
You are always welcome to post suggestions and questions for Nucleus CMS in the same old
English support forum
.
Also, all the core and major plugins are now maintained on
GitHub
. Please feel free to submit issues and of course pull requests.
Beside this code base, LMNucleus a fork from Nucleus by Leo is also available at
http://nucleus.slightlysome.net/
and
GitHub
.
Cheers, and happy blogging!
The Japanese Nucleus Team
Server Maintenance: Wednesday 7th June
Hello,
Our hosting provider, OSUOSL, will be performing some maintenance on the infrastructure that powers
www.phpbb.com
on Wednesday 7th June at 5pm PDT (1am 8th June UTC). It is estimated to take a maximum of one hour, however only a few minutes of downtime is expected.
During this time our various sites may be unavailable, including, but not limited to:
https://www.phpbb.com
https://area51.phpbb.com
This downtime will
not
affect any other installation of the phpBB software other than
www.phpbb.com
.
Many thanks,
The phpBB Team
Plone welcomes four students for the 2016 Google Summer of Code
We welcome these promising students exemplifying great diversity in geography and topics, and wish them a great Summer of Code!
Five Nights at Freddy's 4 Full Version - Feel the fear one last time
Review
Five Nights at Freddy's 4 is the fourth, and last (supposedly) release in the Five Nights at Freddy's saga. Developed and published by Scott Cawthon, this horror game has delighted all the fans of horror games, and has also raised the criticism from those that say that there are too many FNaF games. This time, you are not a security guard fighting for your life against creepy animatronics. Instead, you are a defenseless kid who struggles every night because of his terrifying nightmares (nightmares about creepy animatronics, of course).
Now, animatronics don't kill you, because they are just nightmares, but they can scare you as they have done since forever. Freddy, Bonnie, Chica, and Foxy have come back, and they have brought new nightmare friends with them. Also, the location is not an office anymore. It takes place in your own room, a room with a bed, two doors, and a dark closet. Each part of the room is dangerous since they are places where the animatronics can hide.
Moreover, the mechanics of the game have significantly changed compared to the previous tree installments in the saga. Now, you do not depend on your vision, or the cameras, because in this release, you don't have them. Now, you have to hear; you have to pay attention to every sound, breath, and laugh, because sound indicates where enemies will come from. It's recommended to play with earphones or with a very high volume. You are free to play with a regular sound volume, but you will not be able to hear your enemies.
Are you ready to say goodbye to your beloved animatronics?
As mentioned, the mechanics have changed. Now, you have nothing more than your senses and a flashlight to defend yourself. You have to control both doors, the closet, and the bed behind you. Animatronics can appear in any of the four places. What you have to do is walk bravely to the doors and the closet, listen carefully and if you hear something, close the door as fast as you can and hold it shut until the sound disappears. In case you don't hear anything, use the flashlight to prevent enemies from coming. The bed at your back has a little Freddy fluffy toy, but sometimes dreadful miniature Freddy's appear, followed by Nightmare Freddy himself. You have to shoo them with the flashlight unless you want Freddy to appear. It can seem easy, but the slightest mistake (using the flashlight when you hear a breath, or not closing the doors in time), will bring an end to the game.
Freddy, Bonnie, Chica, and Foxy have come back, and they have brought new nightmare friends with them
Talking about your friends the animatronics, when you download FNaF4, you will have to face six of them, eight if you take into account the "nonofficial" ones. You already know Freddy, Bonnie, Chica, and Foxy (nightmare version) but let me introduce you to Nightmare FredBear and Nightmare (plainly). All the animatronics in nightmare version are decrepit, broken, and especially scary. They have very long sharp teeth and glowing eyes, but Nightmare FredBear and Nightmare have even longer teeth, and they are very dangerous because they are unpredictable. This is especially true of Nightmare, since he is black and semi-transparent. They start appearing on nights 5 and 7, respectively.
Features
In this version, you can check out the main features of Five Nights at Freddy's 4:
A new story that reveals what happened in the Bite of the 87
A gloomy mini-game that allows you to skip the first two hours of the nights (if you are successful)
Nightmare version of the old and well-known animatronics (Bonnie, Freddy, Chica and Foxy)
4 new animatronics: Nightmare, Nightmare FredBear, Plushtrap and Nightmare Cupcake (Chica's cupcake can attack you know)
A new location
New mechanics based on the sounds
If you like this horror adventure, feel free to visit the developer's official website to discover all the features before you download it.
System Requirements
You can read here the minimum PC system requirements needed to download and play this game:
Operating System: Windows XP or later versions
Processor: AMD Athlon, Intel Pentium @ 2GHz or better
RAM Memory: 2 GB RAM
Hard Drive Space: at least 1 GB free available
Re: SMF Arcade
I'll give it a shot, and report back. I have not edited any of tje files myself, jjst tjrougj packahe manager.
WordPress 4.8 "Evans"
An Update with You in Mind Gear up for a more intuitive WordPress! Version 4.8 of WordPress, named "Evans" in honor of jazz pianist and composer William John "Bill" Evans, is available for download or update in your WordPress dashboard. New features in 4.8 add more ways for you to express yourself and represent your brand. Though some […]
XOOPS PHPMailer Security Patches Released
The
XOOPS Development Team
is pleased to announce the release of
security patches for XOOPS 2.5.8 and XOOPS 2.5.7.2.
These patches includes the latest version of PHPMailer to address a serious vulnerability. All XOOPS users are encouraged to update as soon as possible.
Both full distributions and patch files (from the most recent prior release) for both the 2.5.7 and 2.5.8 series are available.
Any users that are running older XOOPS versions are advised to update to
XOOPS 2.5.8.1
now.
Get XOOPS 2.5.8.1
Release files are available on
GitHub
.
The 2.5.8.1 files are also mirrored on the
XOOPS File Repository on SourceForge
Get XOOPS 2.5.7.3
Release files are available on the
XOOPS File Repository on SourceForge