News
September 2017 Update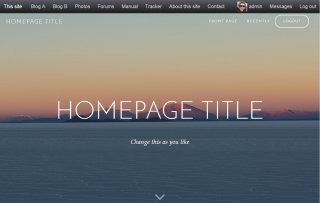 Ok, so we're definitely late on delivering the news… but we have been delivering quite a few new releases!
First, in the 6.8.x branch: 6.8.8-stable, 6.8.9-stable, 6.8.10-stable and 6.8.11-stable. These were mostly stability improvements. We will probably not update the 6.8.x branch any more and, at this time, we encourage everyone to upgrade to the 6.9.x branch!
Then, in the 6.9.x branch: 6.9.1-beta, 6.9.2-beta and 6.9.3-stable. 6.9.3 is really the best option for almost everyone at this point. Read through all release notes to see the new features!! In a nutshell: more settings for customizing skins, new widgets, enhanced plugins (including video plugins), enhanced custom fields, better search feature, enhanced wordpress importer, extended REST API, many new back-office tools.
What comes next? 7.0 of course! Mind you, we have been working on it for over a year already! Expect an alpha release in the next couple of weeks.
And last but not least, we have released a new skin: Jared Skin… with more new skins to come in the next couple of weeks.
As you can see… we've been so busy with the new developments that we almost forgot to tell you about them! We'll try to be a bit more chatty in the future ;)
Massachusetts launches Mass.gov on Drupal 8
This blog has been re-posted and edited with permission from Dries Buytaert's blog. Please leave your comments on the original post.
Earlier this year, the Commonwealth of Massachusetts launched Mass.gov on Drupal 8. Holly St. Clair, the Chief Digital Officer of the Commonwealth of Massachusetts, joined me during my Acquia Engage keynote to share how Mass.gov is making constituents' interactions with the state fast, easy, meaningful, and "wicked awesome".
Constituents at the center
Today, 76% of constituents prefer to interact with their government online. Before Mass.gov switched to Drupal it struggled to provide a constituent-centric experience. For example, a student looking for information on tuition assistance on Mass.gov would have to sort through 7 different government websites before finding relevant information.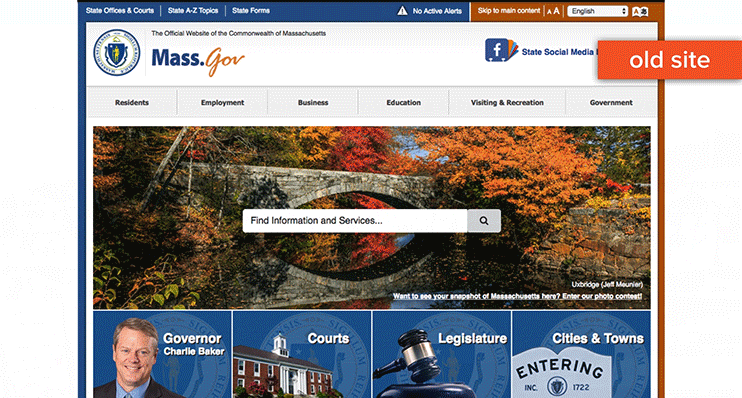 To better serve residents, businesses and visitors, the Mass.gov team took a data-driven approach. After analyzing site data, they discovered that 10% of the content serviced 89% of site traffic. This means that up to 90% of the content on Mass.gov was either redundant, out-of-date or distracting. The digital services team used this insight to develop a site architecture and content strategy that prioritized the needs and interests of citizens. In one year, the team at Mass.gov moved a 15-year-old site from a legacy CMS to Drupal.
The team at Mass.gov also incorporated user testing into every step of the redesign process, including usability, information architecture and accessibility. In addition to inviting over 330,000 users to provide feedback on the pilot site, the Mass.gov team partnered with the Perkins School for the Blind to deliver meaningful accessibility that surpasses compliance requirements. This approach has earned Mass.gov a score of 80.7 on the System Usability Scale; 12 percent higher than the reported average.
Open from the start
As an early adopter of Drupal 8, the Commonwealth of Massachusetts decided to open source the code that powers Mass.gov. Everyone can see the code that make Mass.gov work, point out problems, suggest improvements, or use the code for their own state. It's inspiring to see the Commonwealth of Massachusetts fully embrace the unique innovation and collaboration model inherent to open source. I wish more governments would do the same!
Congratulations Mass.gov
The new Mass.gov is engaging, intuitive and above all else, wicked awesome. Congratulations Mass.gov!
e107 v2.1.6 Bootstrap CMS Released
We're happy to announce the release of e107 v2.1.6!
This release contains some great improvements as well as bug fixes. We recommend everyone upgrade immediately.
Fixes/Improvements:
TinyMce updated to 4.5.6
PHP Mailer Upgrade to 5.2.23
Improvements to sending email procedure (SMTP)
Bug fixes to plugins: Chatbox, Downloads, FAQ, Featurebox, Forum
News: meta-description character limit option added. ie. {NEWS_DESCRIPTION: limit=x}
Downloads: now supports file in root directory (no longer 'parent > child" needed)
Several fixes to SEFL URLs, including automatic generation
Numerous LAN enhancements (thanks @yesszus)
Caching improvements
Improvements to meta-tags
Further fixes for PHP 7.1 compatibility
Fixes to the backup/export functionality
Javascript files are now moved to the footer
Improved logging to system logs (especially SQL queries)
Improved sessions handling (should prevent sudden logout)
And literally dozens of other bugfixes and optimizations
New features:
Language-Packs can now be downloaded and installed without leaving the admin area
New MySQL method selectTree()
New constant e_HTTP_STATIC
New constant e_VERSION which returns the currently installed version of e107
Custom TinyMCE snippets can now be placed in the theme folder as custom templates: templates/tinymce/snippets
Ability to override site path (hash) by defining $E107_CONFIG['site_path'] in e107_config.php
Table data from e107 v1.x "Content Management" plugin can now be imported into "Pages/Menus"
For a full list of changes, please go here.
Please see our downloads section to download a copy.
Thank you for continuing to use e107!
DokuWiki Plugin v1.9.0
The Geeklog DokuWiki Plugin v1.9.0 is now available for download.
The DokuWiki Integration Plugin for Geeklog provides an integration with your Geeklog v2.1.1+ website. This plugin is based on DokuWiki 2016-06-26a "Elenor of Tsort", " which is the latest release at the time of this writing.
If you find any bugs or wish to request a feature, please add them to our issues tracker.
Introducing High Performance Joomla! Host A2 Hosting As Global Sponsor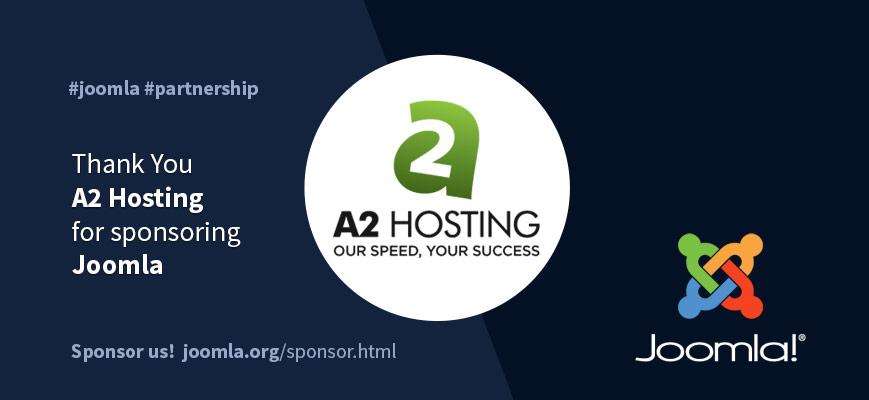 Who is A2 Hosting?
It's likely that you're already familiar with A2 Hosting. Not only are they an active Joomla! Community member and have sponsored Joomla! and our community, they have been hosting Joomla! sites since their launch back in 2003.
Nucleus CMS is Back (Sort of)
Despite project close announcement one and a half years ago, some enthusiastic Japanese developers and users have been maintaining Nucleus CMS core.
And today, we are pleased to announce Nucleus CMS 3.70. This is a direct descent of the original Nucleus CMS, supports the same multiple languages.
Major fixes and improvements in this release are including (but not limited to) the following:
Enforced password security using phpass library instead of md5 hash
Default character code set is now utf-8, not iso8859-1
Added new event PreLoadMainLibs
Upcoming version 3.71 is pre-released in Japanese as well. New features in 3.71 are:
Fixed vulnerability described in VCE-2011-3760.
Support for PHP7 (Fixes in installer, embedded wrapper for mysql functions, etc.)
[New] Duplicate Item button in the item list screen
[New] Now you can arrange category order
... and more!
Nucleus CMS 3.70 is available for download from
download page
.
You are always welcome to post suggestions and questions for Nucleus CMS in the same old
English support forum
.
Also, all the core and major plugins are now maintained on
GitHub
. Please feel free to submit issues and of course pull requests.
Beside this code base, LMNucleus a fork from Nucleus by Leo is also available at
http://nucleus.slightlysome.net/
and
GitHub
.
Cheers, and happy blogging!
The Japanese Nucleus Team
Server Maintenance: Multiple days
Hello,
Our hosting provider, OSUOSL, will be performing some maintenance on the infrastructure that powers
www.phpbb.com
.
During the following timeframes our sites might be temporarily unavailable:
December 12:
9:00AM - 11:00 AM PST (1700 - 1900 UTC)
December 13:
9:00AM - 11:00 AM PST (1700 - 1900 UTC)
December 14:
9:00AM - 11:00 AM PST (1700 - 1900 UTC)
December 15:
9:00AM - 11:00 AM PST (1700 - 1900 UTC)
December 19:
9:00AM - 11:00 AM PST (1700 - 1900 UTC)
This downtime applies to our various sites, including, but not limited to:
https://www.phpbb.com
https://area51.phpbb.com
This downtime will
not
affect any other installation of the phpBB software other than
www.phpbb.com
. However, the version check in your administration control panel might give a temporary error message.
Many thanks,
The phpBB Team
Plone welcomes four students for the 2016 Google Summer of Code
We welcome these promising students exemplifying great diversity in geography and topics, and wish them a great Summer of Code!
Five Nights at Freddy's 4 Full Version - Feel the fear one last time
Review
Five Nights at Freddy's 4 is the fourth, and last (supposedly) release in the Five Nights at Freddy's saga. Developed and published by Scott Cawthon, this horror game has delighted all the fans of horror games, and has also raised the criticism from those that say that there are too many FNaF games. This time, you are not a security guard fighting for your life against creepy animatronics. Instead, you are a defenseless kid who struggles every night because of his terrifying nightmares (nightmares about creepy animatronics, of course).
Now, animatronics don't kill you, because they are just nightmares, but they can scare you as they have done since forever. Freddy, Bonnie, Chica, and Foxy have come back, and they have brought new nightmare friends with them. Also, the location is not an office anymore. It takes place in your own room, a room with a bed, two doors, and a dark closet. Each part of the room is dangerous since they are places where the animatronics can hide.
Moreover, the mechanics of the game have significantly changed compared to the previous tree installments in the saga. Now, you do not depend on your vision, or the cameras, because in this release, you don't have them. Now, you have to hear; you have to pay attention to every sound, breath, and laugh, because sound indicates where enemies will come from. It's recommended to play with earphones or with a very high volume. You are free to play with a regular sound volume, but you will not be able to hear your enemies.
Are you ready to say goodbye to your beloved animatronics?
As mentioned, the mechanics have changed. Now, you have nothing more than your senses and a flashlight to defend yourself. You have to control both doors, the closet, and the bed behind you. Animatronics can appear in any of the four places. What you have to do is walk bravely to the doors and the closet, listen carefully and if you hear something, close the door as fast as you can and hold it shut until the sound disappears. In case you don't hear anything, use the flashlight to prevent enemies from coming. The bed at your back has a little Freddy fluffy toy, but sometimes dreadful miniature Freddy's appear, followed by Nightmare Freddy himself. You have to shoo them with the flashlight unless you want Freddy to appear. It can seem easy, but the slightest mistake (using the flashlight when you hear a breath, or not closing the doors in time), will bring an end to the game.
Freddy, Bonnie, Chica, and Foxy have come back, and they have brought new nightmare friends with them
Talking about your friends the animatronics, when you download FNaF4, you will have to face six of them, eight if you take into account the "nonofficial" ones. You already know Freddy, Bonnie, Chica, and Foxy (nightmare version) but let me introduce you to Nightmare FredBear and Nightmare (plainly). All the animatronics in nightmare version are decrepit, broken, and especially scary. They have very long sharp teeth and glowing eyes, but Nightmare FredBear and Nightmare have even longer teeth, and they are very dangerous because they are unpredictable. This is especially true of Nightmare, since he is black and semi-transparent. They start appearing on nights 5 and 7, respectively.
Features
In this version, you can check out the main features of Five Nights at Freddy's 4:
A new story that reveals what happened in the Bite of the 87
A gloomy mini-game that allows you to skip the first two hours of the nights (if you are successful)
Nightmare version of the old and well-known animatronics (Bonnie, Freddy, Chica and Foxy)
4 new animatronics: Nightmare, Nightmare FredBear, Plushtrap and Nightmare Cupcake (Chica's cupcake can attack you know)
A new location
New mechanics based on the sounds
If you like this horror adventure, feel free to visit the developer's official website to discover all the features before you download it.
System Requirements
You can read here the minimum PC system requirements needed to download and play this game:
Operating System: Windows XP or later versions
Processor: AMD Athlon, Intel Pentium @ 2GHz or better
RAM Memory: 2 GB RAM
Hard Drive Space: at least 1 GB free available
Re: ¿Como carajos hacen esto?
Revisa los grupos de usuarios, que tengan los permisos correctos y revisa a todos los que tienen el grupo administrador, ya que se puede poner como secundario.
Como comentan, los correos a donde se mandan notificaciones de cosas importantes, y cambiar ...
The Month in WordPress: November 2017
The WordPress project recently released WordPress 4.9, "Tipton" — a new major release named in honor of musician and band leader Billy Tipton. Read on to find out more about this and other interesting news from around the WordPress world in November. WordPress 4.9 "Tipton" On November 16, WordPress 4.9 was released with new features […]
XOOPS PHPMailer Security Patches Released
The
XOOPS Development Team
is pleased to announce the release of
security patches for XOOPS 2.5.8 and XOOPS 2.5.7.2.
These patches includes the latest version of PHPMailer to address a serious vulnerability. All XOOPS users are encouraged to update as soon as possible.
Both full distributions and patch files (from the most recent prior release) for both the 2.5.7 and 2.5.8 series are available.
Any users that are running older XOOPS versions are advised to update to
XOOPS 2.5.8.1
now.
Get XOOPS 2.5.8.1
Release files are available on
GitHub
.
The 2.5.8.1 files are also mirrored on the
XOOPS File Repository on SourceForge
Get XOOPS 2.5.7.3
Release files are available on the
XOOPS File Repository on SourceForge