News
2022 Update (EOL)
b2evolution CMS is no longer actively developed (Read more…).
We only fix security issues when discovered on the 7.2.x-stable branch. We do not maintain older or newer (development) branches.
We will not maintain forever…
We strongly encourage those who are continuing to use the software to fork the project and continue development on their own.
Progressive migration to Drupal 9 for Ed-Tech Startup, Edredo
Completed Drupal site or project URL:
Edredo is a social platform that links 90,000+ students and young professionals with industry specialists for career growth and skill-building. With a focus on collaborative learning and teaching, Edredo offers a unique and engaging Ed-tech experience through its innovative approach to experiential learning, gamification, and ease of use.
OpenSense Labs assisted Edredo in migrating to a Drupal 9 decoupled application through a progressive approach, ensuring a seamless transition with no disruption to the end user experience.
Geeklog Plugins that Support v2.2.2
Here is a list of the latest plugins to receive updates since the release of Geeklog v2.2.2. Some of these plugins will require this version.
Please note, we will continue to add to this list as plugins are released.
Here is a list of updated plugins expected to be release in the next few months:
Downloads Plugin v1.2.3.1
These updated plugins support PHP 8.1 and also contain new features and bug fixes as well. Please visit the download page of the specific plugin to find out more information. The plugins above can also be found on Github in our Geeklog Plugins Repository.
For a list of plugins that where updated after Geeklog 2.2.1sr1 was released back in April 18 2020, please see the article titled: Geeklog Plugins that Support v2.2.1.
All of these older plugins will work with Geeklog v2.2.2 as well.
Developers if you have a plugin which supports Geeklog v2.2.2 which has not been included in the list above please comment on this article to give us more information, and we will add it in. Remember you can also submit an article (and upload the file) about your plugin and after review (and editing if required) we will post it on Geeklog.net.
Joomla 3.9.26 Release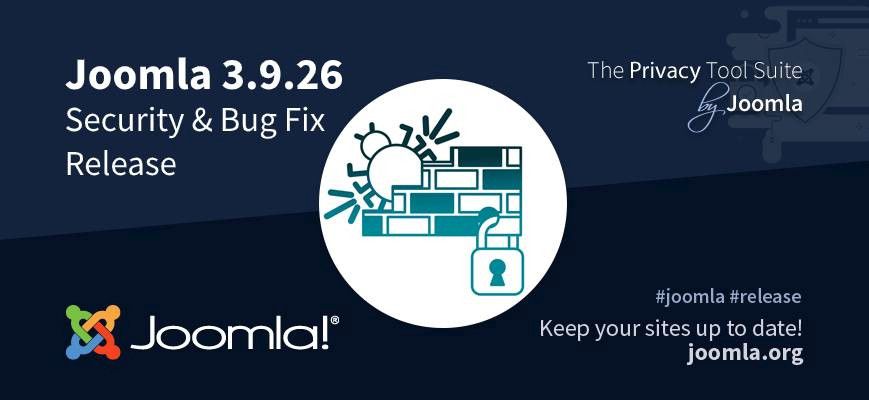 Joomla 3.9.26 is now available. This is a security release for the 3.x series of Joomla which addresses 2 security vulnerabilities and contains more than 30 bug fixes and improvements.
Nucleus CMS is Back (Sort of)
Despite project close announcement one and a half years ago, some enthusiastic Japanese developers and users have been maintaining Nucleus CMS core.
And today, we are pleased to announce Nucleus CMS 3.70. This is a direct descent of the original Nucleus CMS, supports the same multiple languages.
Major fixes and improvements in this release are including (but not limited to) the following:
Enforced password security using phpass library instead of md5 hash
Default character code set is now utf-8, not iso8859-1
Added new event PreLoadMainLibs
Upcoming version 3.71 is pre-released in Japanese as well. New features in 3.71 are:
Fixed vulnerability described in VCE-2011-3760.
Support for PHP7 (Fixes in installer, embedded wrapper for mysql functions, etc.)
[New] Duplicate Item button in the item list screen
[New] Now you can arrange category order
... and more!
Nucleus CMS 3.70 is available for download from
download page
.
You are always welcome to post suggestions and questions for Nucleus CMS in the same old
English support forum
.
Also, all the core and major plugins are now maintained on
GitHub
. Please feel free to submit issues and of course pull requests.
Beside this code base, LMNucleus a fork from Nucleus by Leo is also available at
http://nucleus.slightlysome.net/
and
GitHub
.
Cheers, and happy blogging!
The Japanese Nucleus Team
phpBB 3.3.10 Release
Greetings everyone,
We are pleased to announce the release of phpBB 3.3.10 "The Way of Bertie". This version is a maintenance release of the 3.3.x branch which improves support for PHP 8.2, and resolves various issues reported in previous versions.
Previous versions of phpBB started showing a "broken image" icon next to the browser's fallback emoji due to the service of the Emoji Content Delivery Network (CDN) being shut down. In order to resolve this, the emoji CDN has been replaced alongside other fixes which include improved handling of errors while using the Spamhaus blocklist, and proper handling of emojis when adding feedback in the Moderator Control Panel (MCP).
In addition to this, we have improved support for the use of reCAPTCHA for countries where the main domain might not be accessible, and the explanation of the ACP setting for allowing the "usage of third party content delivery networks" has been improved.
Further hardening has been added to the cron redirect to prevent exceptions from being left unhandled.
Thanks to recent changes to the phpBB repository on GitHub, contributing to phpBB has become easier than ever with the support of GitHub Codespaces. Check out
our blog post
on how to use GitHub Codespaces with phpBB or find out more on
GitHub
.
The full list of changes is available in the changelog file within the docs folder contained in the release package. You can find the key highlights of this release
below
and a list of all issues fixed on our tracker at
https://tracker.phpbb.com/issues/?filter=16195
The packages can be downloaded from our downloads page.
The development team thanks everyone who contributed code to this release: Patrick Webster, Christian Schnegelberger, LukeWCS, Matt Friedman, SagePtr, wordlesswind
If you have any questions or comments, we'll be happy to address them in the
discussion topic
.
- The phpBB Team
¿En qué consiste en desarrollo web con PHP y MySQL?
Más del 50% de las webs que visitas están creadas con PHP y MySQL. Si tienes curiosidad acerca de cómo estas dos tecnologías se integran
Is there an option to remove 'personal text' from profiles ?
Or, is this something commented out in profile-modify.php?
WP Briefing: Episode 52: Workflows and Phase Three Visioning with Special Guest Héctor Prieto
On this week's episode, special guest Héctor Prieto joins Josepha in a discussion about phase three and why it's more than collaborative editing.
XOOPS PHPMailer Security Patches Released
The
XOOPS Development Team
is pleased to announce the release of
security patches for XOOPS 2.5.8 and XOOPS 2.5.7.2.
These patches includes the latest version of PHPMailer to address a serious vulnerability. All XOOPS users are encouraged to update as soon as possible.
Both full distributions and patch files (from the most recent prior release) for both the 2.5.7 and 2.5.8 series are available.
Any users that are running older XOOPS versions are advised to update to
XOOPS 2.5.8.1
now.
Get XOOPS 2.5.8.1
Release files are available on
GitHub
.
The 2.5.8.1 files are also mirrored on the
XOOPS File Repository on SourceForge
Get XOOPS 2.5.7.3
Release files are available on the
XOOPS File Repository on SourceForge