News
2022 Update (EOL)
b2evolution CMS is no longer actively developed (Read more…).
We only fix security issues when discovered on the 7.2.x-stable branch. We do not maintain older or newer (development) branches.
We will not maintain forever…
We strongly encourage those who are continuing to use the software to fork the project and continue development on their own.
Drupal 9.4.0 is available
What's new in Drupal 9.4.0?
The fourth feature release of Drupal 9 brings a whole new frontend look with the Olivero theme by default and a refreshed backend interface with the Claro theme. There is also a new starterkit theme generator, better image loading performance and easier permission management.
Drupal now uses the Olivero frontend theme by default
When you install Drupal 9.4.0, it will look quite different from previous releases because it uses the new modern Olivero frontend theme. While the theme looks beautiful, it also has superb accessibility and adapts well to various display sizes.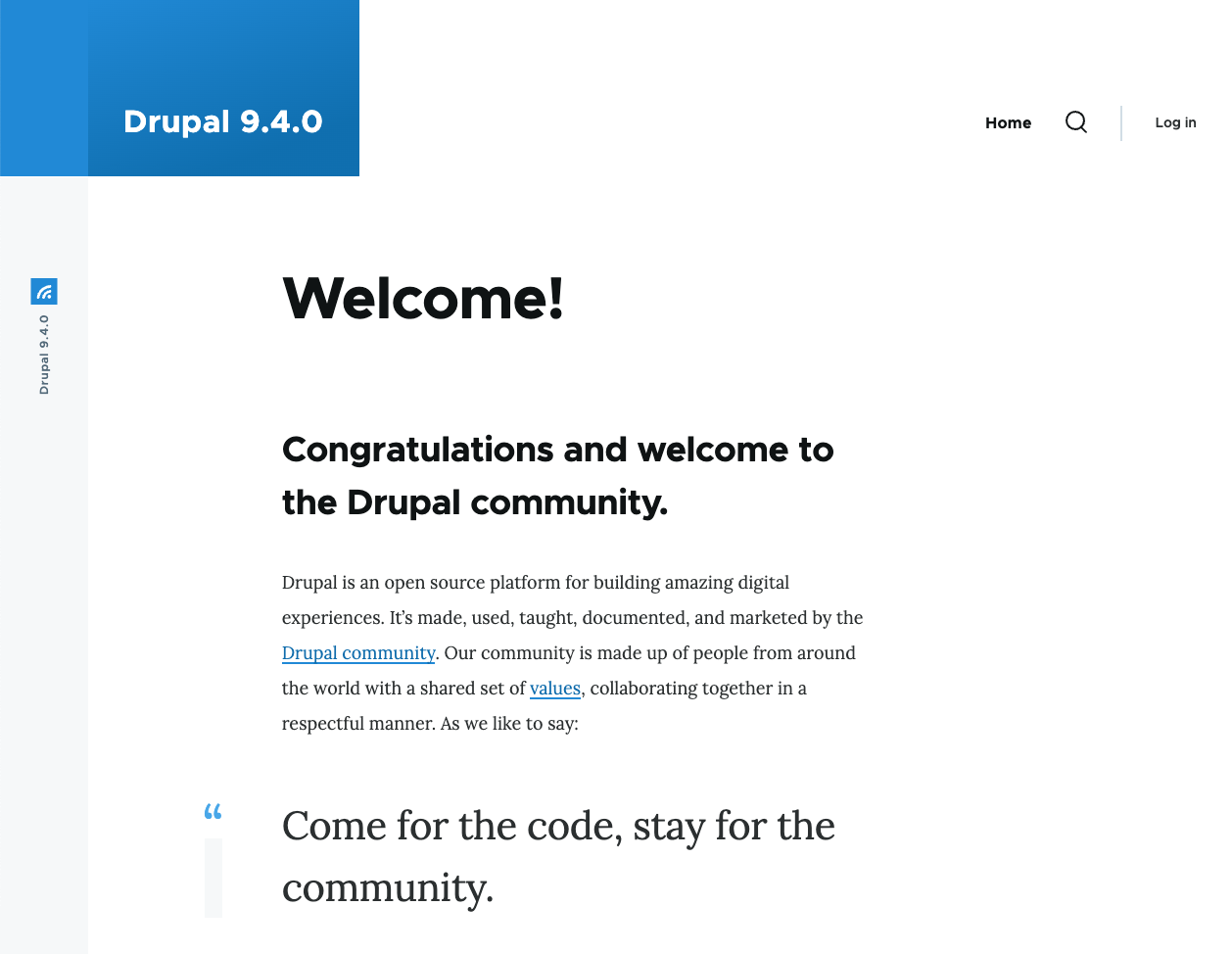 The theme is named after Rachel Olivero (1982-2019). She was the head of the organizational technology group at the National Federation of the Blind, a well-known accessibility expert, a Drupal community contributor, and a friend to many.
Drupal now uses the Claro backend theme by default!
The Claro backend theme has been in the works for a while. It became stable and the default administration theme in Drupal 9.4.0. The new theme brings a modern look to the backend interface of Drupal. It has been available as a core experimental theme for some time, so it is well-tested with contributed projects and real-world sites.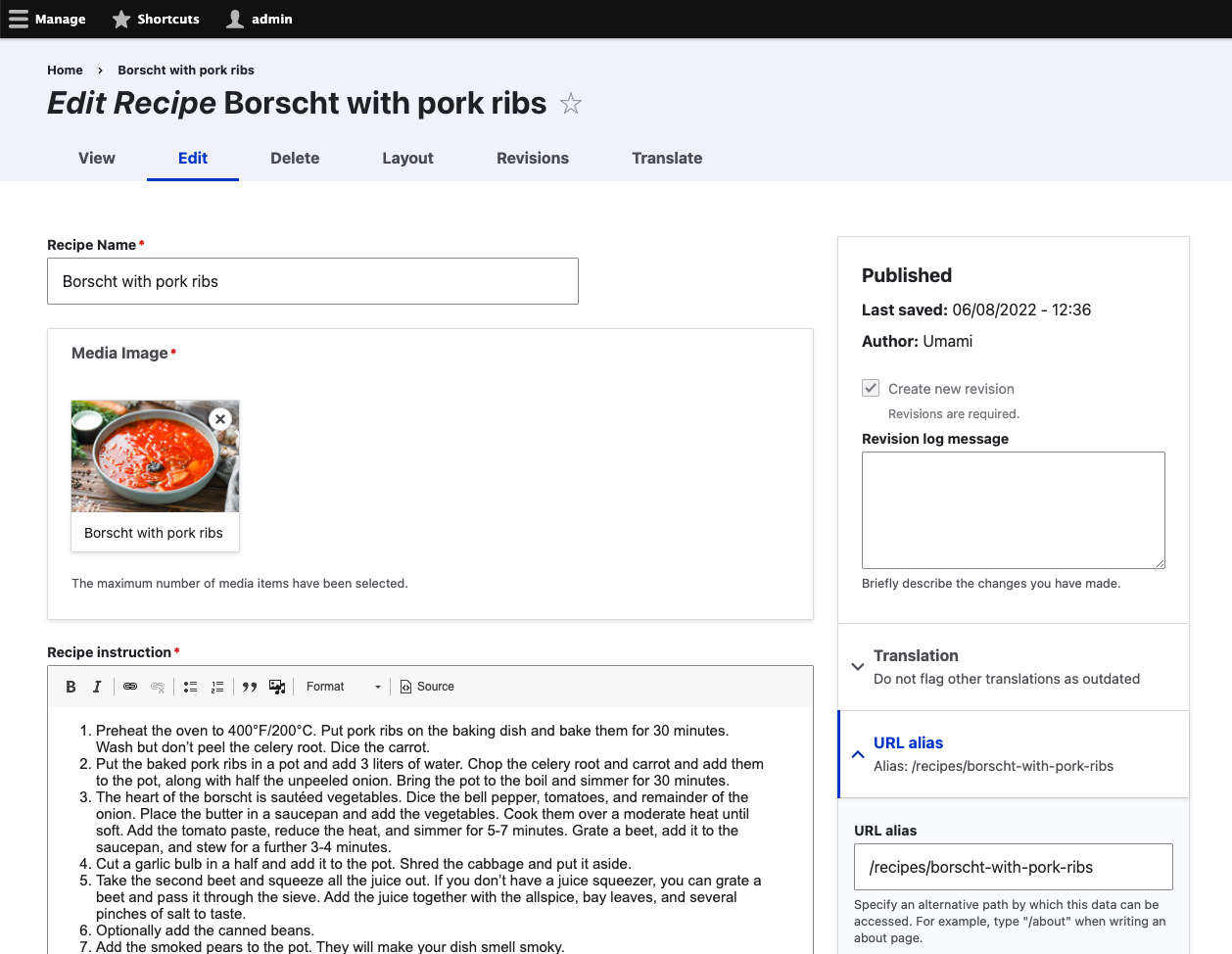 A delicious addition to the Umami demo in core is a new Borscht recipe (pictured), with a dedication to the fantastic Ukrainian Drupal community.
New experimental Starterkit theme and theme generator
Drupal 9.4.0 ships with a new experimental Starterkit theme and theme generator. The new Starterkit theme is used as a basis to generate new standalone themes, rather than being extended at runtime like the Classy core base theme. Currently, the markup provided by the Starterkit theme is the same as Classy's, but its markup can be improved in future minor releases (whereas Classy's can't), so once it becomes stable, Starterkit will replace Classy. For more information, read the blog post on how the new starterkit will change theme creation in Drupal 10!
New lazy loading configuration option added to image fields
A new lazy loading configuration option is added to image fields in 9.4.0 and most image fields shipped in core are now configured to lazy load. This helps browsers to delay downloading and displaying them until they become visible, which speeds up general page display.
Easier permission management for content types, vocabularies, etc.
When editing content types, vocabularies, and so on, site administrators previously had no way to control permissions in context for these entity bundles in the same interface. With Drupal 9.4.0 a new "Manage permissions" tab displays the permissions that depend on the given type, making them easier to configure correctly.
Improvements to drupal/core-recommended for security update management
The drupal/core-recommended metapackage now allows patch-level updates for Composer dependencies. This means that site owners using drupal/core-recommended can now install most Composer dependency security updates themselves, without needing to wait for an upstream release of Drupal core that updates the affected package.
What does this release mean for me?
Drupal 8 site owners
Drupal 8 is end of life as of November 17, 2021. Upgrade from Drupal 8 to at least Drupal 9.3.x as soon as possible to continue receiving security coverage. Upgrading is supported directly from 8.8.x and 8.9.x.
Drupal 7 site owners
Drupal 7 support was extended until November 1, 2023, and it will continue to receive bug and security fixes throughout this time. On the other hand, the migration path for Drupal 7 sites to Drupal 9 is stable. Read more about the migration to Drupal 9.
Translation, module, and theme contributors
Minor releases like Drupal 9.4.0 include backwards-compatible API additions for developers as well as new features.
Since minor releases are backwards-compatible, modules, themes, and translations that supported Drupal 9.3.x and earlier will be compatible with 9.4.x as well. However, the new version does include some changes to strings, user interfaces, internal APIs, and API deprecations. This means that some small updates may be required for your translations, modules, and themes. Read the 9.4.0 release notes for a full list of changes that may affect your modules and themes.
This release has further advanced the Drupal project and represents the efforts of hundreds of volunteers and contributors from various organizations. Thank you to everyone who contributed to Drupal 9.4.0!
Geeklog Plugins that Support v2.2.2
Here is a list of the latest plugins to receive updates since the release of Geeklog v2.2.2. Some of these plugins will require this version.
Please note, we will continue to add to this list as plugins are released.
Here is a list of updated plugins expected to be release in the next few months:
Downloads Plugin v1.2.3.1
These updated plugins support PHP 8.1 and also contain new features and bug fixes as well. Please visit the download page of the specific plugin to find out more information. The plugins above can also be found on Github in our Geeklog Plugins Repository.
For a list of plugins that where updated after Geeklog 2.2.1sr1 was released back in April 18 2020, please see the article titled: Geeklog Plugins that Support v2.2.1.
All of these older plugins will work with Geeklog v2.2.2 as well.
Developers if you have a plugin which supports Geeklog v2.2.2 which has not been included in the list above please comment on this article to give us more information, and we will add it in. Remember you can also submit an article (and upload the file) about your plugin and after review (and editing if required) we will post it on Geeklog.net.
Joomla 3.9.26 Release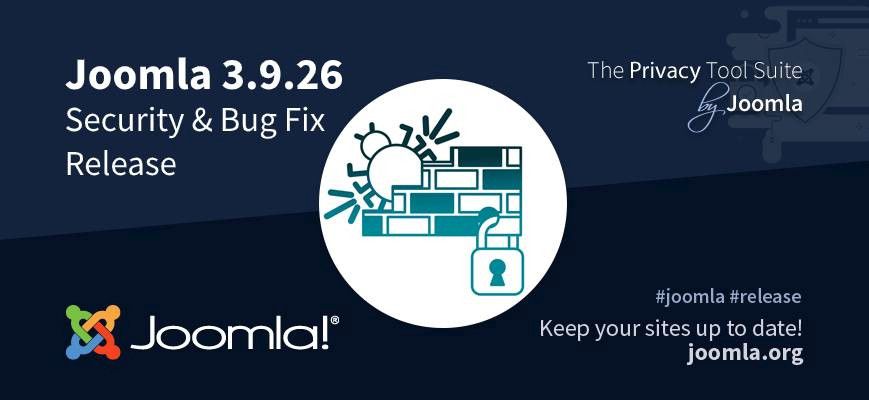 Joomla 3.9.26 is now available. This is a security release for the 3.x series of Joomla which addresses 2 security vulnerabilities and contains more than 30 bug fixes and improvements.
Nucleus CMS is Back (Sort of)
Despite project close announcement one and a half years ago, some enthusiastic Japanese developers and users have been maintaining Nucleus CMS core.
And today, we are pleased to announce Nucleus CMS 3.70. This is a direct descent of the original Nucleus CMS, supports the same multiple languages.
Major fixes and improvements in this release are including (but not limited to) the following:
Enforced password security using phpass library instead of md5 hash
Default character code set is now utf-8, not iso8859-1
Added new event PreLoadMainLibs
Upcoming version 3.71 is pre-released in Japanese as well. New features in 3.71 are:
Fixed vulnerability described in VCE-2011-3760.
Support for PHP7 (Fixes in installer, embedded wrapper for mysql functions, etc.)
[New] Duplicate Item button in the item list screen
[New] Now you can arrange category order
... and more!
Nucleus CMS 3.70 is available for download from
download page
.
You are always welcome to post suggestions and questions for Nucleus CMS in the same old
English support forum
.
Also, all the core and major plugins are now maintained on
GitHub
. Please feel free to submit issues and of course pull requests.
Beside this code base, LMNucleus a fork from Nucleus by Leo is also available at
http://nucleus.slightlysome.net/
and
GitHub
.
Cheers, and happy blogging!
The Japanese Nucleus Team
phpBB 3.3.9 Release
Greetings everyone,
We are pleased to announce the release of phpBB 3.3.9 "Bertie's lunar flyby". This version is a maintenance release of the 3.3.x branch which improves PHP 8.0 and 8.1 support and clarifies the message when using an unsupported PHP version. Multiple third party libraries like Guzzle and twig were also updated to include their latest bug and security fixes. Please note that the changes in twig might result in issues with loading template files and hence with loading pages of your forum (see
viewtopic.php?t=2631681
). Check if installed extensions are compatible before updating or disable them prior to the update to 3.3.9.
In addition to this, we have also resolved an issue that was preventing users from updating after having removed the default YouTube profile field. Furthermore, some issues with malformed emails due to special characters in usernames as well as differing behavior related to line endings in newer PHP versions were fixed.
Finally, more hardening was added in the form of ensuring that after a password reset through the "Forgot Password" functionality, all user sessions are also reset. This is now in line with the already existing behavior when changing one's password.
The full list of changes is available in the changelog file within the docs folder contained in the release package. You can find the key highlights of this release
below
and a list of all issues fixed on our tracker at
https://tracker.phpbb.com/issues/?filter=16194
The packages can be downloaded from our downloads page.
The development team thanks everyone who contributed code to this release: Christian Schnegelberger, Patrick Webster, Dark❶, ANDRI H.U
If you have any questions or comments, we'll be happy to address them in the
discussion topic
.
- The phpBB Team
¿La Edad Importa Para Aprender A Programar?
¿La edad importa para aprender a programar? Si tú te has hecho esta pregunta probablemente seas muy joven o tal vez muy adulto. Pero no
Re: CountryFlags
Quote from: landyvlad on Yesterday at 07:04:33 PMIs what you've done reversible easily if the mod does get updated to work in 2.1?

Yes, disable related profile field
But with profile field enabled, you will have image flags always...
Share Your Experience: The 2022 WordPress Survey is Open
The 2022 WordPress survey is open for your input and available in English, French, German, Italian, Japanese, Russian, and Spanish.
XOOPS PHPMailer Security Patches Released
The
XOOPS Development Team
is pleased to announce the release of
security patches for XOOPS 2.5.8 and XOOPS 2.5.7.2.
These patches includes the latest version of PHPMailer to address a serious vulnerability. All XOOPS users are encouraged to update as soon as possible.
Both full distributions and patch files (from the most recent prior release) for both the 2.5.7 and 2.5.8 series are available.
Any users that are running older XOOPS versions are advised to update to
XOOPS 2.5.8.1
now.
Get XOOPS 2.5.8.1
Release files are available on
GitHub
.
The 2.5.8.1 files are also mirrored on the
XOOPS File Repository on SourceForge
Get XOOPS 2.5.7.3
Release files are available on the
XOOPS File Repository on SourceForge