News
2022 Update (EOL)
b2evolution CMS is no longer actively developed (Read more…).
We only fix security issues when discovered on the 7.2.x-stable branch. We do not maintain older or newer (development) branches.
We will not maintain forever…
We strongly encourage those who are continuing to use the software to fork the project and continue development on their own.
Drupal 7's End-of-Life extended to November 1, 2023 - PSA-2022-02-23
Description:
Drupal 7's End-of-Life extended to November 1, 2023
More than a decade after its first release, Drupal 7 is still widely used across the web. It can be found powering civic engagement in government installations; managing vast amounts of content for faculty, students, and staff in educational institutions; and providing the digital backbone for many businesses and non-profit organizations. Drupal 9 is well-maintained, secure, stable, and feature-rich, but many organizations still rely on Drupal 7.
The teams that built and still maintain these legacy Drupal installations, and the end users they serve, are important constituents of the Drupal community. Although these users should still plan their upgrade to a newer version of Drupal, if they are unable to upgrade before the currently announced end-of-life, it would not be responsible of us to leave them vulnerable.
Therefore, we are announcing that moving forward, the scheduled Drupal 7 End-of-Life date will be re-evaluated annually. As of today, we are extending the end-of-life by one year to November 1, 2023.
The Drupal project lead, Dries Buytaert, the Drupal Association, and the Drupal Security Working Group have been monitoring the Drupal 7 ecosystem since the previous end-of-life extension. As a majority of all sites in the Drupal project are still on Drupal 7, we have decided that there is a clear need to provide additional support to the members of our community still using this version. At the end of the day, we have a moral imperative to keep as many of those sites secure as we can.
We will announce by July 2023 whether we will extend Drupal 7 community support an additional year. Factors that we will consider are community support, Drupal 7 usage, and active Drupal 7 maintainers. Current support is made possible thanks to the many Drupal 7 maintainers and companies that are paying to support Drupal 7.
You can donate to the Drupal Security Team on our Donations page.
For press contacts, please email security-press@drupal.org.
Coordinated By:
The following people contributed to this public service announcement.
Michael Hess
Tim Lehnen
Greg Knaddison
Dries Buytaert
xjm
Gábor Hojtsy
Madison Atkins
Glossary Plugin
The oldish Glossary Plugin is re-released. The code is re-developed, but the database stays the same for now. See latest developments or demo yourselves with a large grossary.
The plugin is intended to create glossaries for your site, whilst your content can be enriched with links to known glossary entries. Multiple subjects are supported and a autotag lets you choose which subject to use for a certain text.
Make sure you have users added to the glossary.admin and/or glossary.edit security groups.
Glossary catches the userID that submits a term, and the userID that edits a term. Along with a timeStamp. Categories can be defined which work site wide.
Configuration is still old-fashioned; find them in config.php. Available languages are English and German (with thanks to Alexander Schmacks).
---
Usage.
Browse the Glossary; select a category, or a subject, or a letter. Admins may select additionally contributing authors, or a time period. The list display all found terms in a abbreviated form, and when less that 2, their full details.
Submit a new term and make sure the correct subject / category is et for the term. The plugin will check them uniqueness. The same term can appear is a different category or a different subject.
Edit the Term as often as you like. The lookup in your content is dynamic and shows immediately the new meaning(s).
Browse your content and see the links appear that are created by the lookup. Don't forget to insert the autotag or apply the proposed hack. The links to the glossary entries uses a title attribute to be shown in a dropdown. Hoovering on the link will do.
You can download the Glossary plugin from here.
Joomla 3.9.26 Release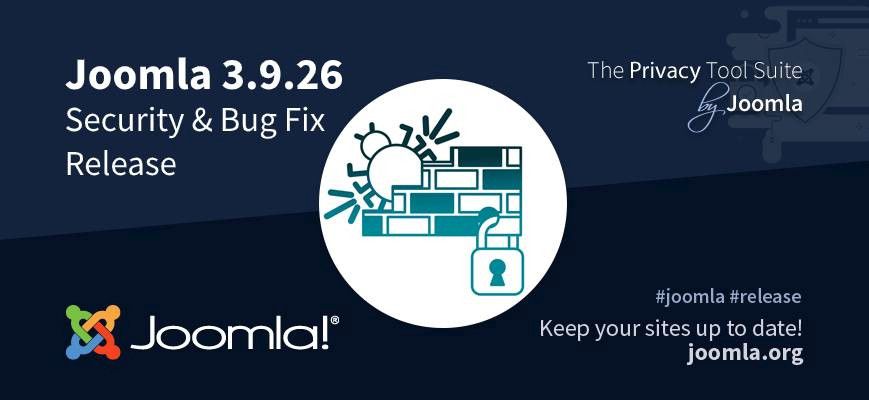 Joomla 3.9.26 is now available. This is a security release for the 3.x series of Joomla which addresses 2 security vulnerabilities and contains more than 30 bug fixes and improvements.
Nucleus CMS is Back (Sort of)
Despite project close announcement one and a half years ago, some enthusiastic Japanese developers and users have been maintaining Nucleus CMS core.
And today, we are pleased to announce Nucleus CMS 3.70. This is a direct descent of the original Nucleus CMS, supports the same multiple languages.
Major fixes and improvements in this release are including (but not limited to) the following:
Enforced password security using phpass library instead of md5 hash
Default character code set is now utf-8, not iso8859-1
Added new event PreLoadMainLibs
Upcoming version 3.71 is pre-released in Japanese as well. New features in 3.71 are:
Fixed vulnerability described in VCE-2011-3760.
Support for PHP7 (Fixes in installer, embedded wrapper for mysql functions, etc.)
[New] Duplicate Item button in the item list screen
[New] Now you can arrange category order
... and more!
Nucleus CMS 3.70 is available for download from
download page
.
You are always welcome to post suggestions and questions for Nucleus CMS in the same old
English support forum
.
Also, all the core and major plugins are now maintained on
GitHub
. Please feel free to submit issues and of course pull requests.
Beside this code base, LMNucleus a fork from Nucleus by Leo is also available at
http://nucleus.slightlysome.net/
and
GitHub
.
Cheers, and happy blogging!
The Japanese Nucleus Team
Introducing the new phpBB Status Site
Hello everyone,
We are proud to announce the availability of the new
phpBB Status Site
, a simplified status page to monitor the sites and services on our network.
The Status Site is a single location to check on the current availability of phpBB sites as well as any planned maintenance work. You will also be able to check on any previous maintenance or incidents.
Please note that the Status Site only monitors sites on the phpbb.com domain, it does not monitor externally deployed phpBB forums. The page is created using
Upptime
, an open source uptime monitor and status page powered by GitHub Actions, Issues, and Pages. Check it out to see whether it might also be a good fit to monitor your site.
If you have any questions about the new phpBB Status Site or the website in general, feel free to ask in the
phpBB.com Website Feedback
topic.
Thanks,
The phpBB Team
¿La Edad Importa Para Aprender A Programar?
¿La edad importa para aprender a programar? Si tú te has hecho esta pregunta probablemente seas muy joven o tal vez muy adulto. Pero no
Re: SMF Links
Quote from: Oldiesmann on Today at 09:52:26 PMA couple of bugs relating to category order:
In the admin center, categories are shown in a different order than on the links page
Trying to move a category up doesn't work - you just get an er...
WP Briefing: Episode 31: Open Source & Accessibility– Celebrating Global Accessibility Awareness Day With Guest Joe Devon
In the thirty-first episode of the WordPress Briefing, GAAD Co-Founder Joe Devon joins WordPress Executive Director Josepha Haden Chomphosy to discuss Global Accessibility Awareness Day and the role of open source in accessibility. Have a question you'd like answered? You can submit them to wpbriefing@wordpress.org, either written or as a voice recording. Credits Guest: Joe […]
XOOPS PHPMailer Security Patches Released
The
XOOPS Development Team
is pleased to announce the release of
security patches for XOOPS 2.5.8 and XOOPS 2.5.7.2.
These patches includes the latest version of PHPMailer to address a serious vulnerability. All XOOPS users are encouraged to update as soon as possible.
Both full distributions and patch files (from the most recent prior release) for both the 2.5.7 and 2.5.8 series are available.
Any users that are running older XOOPS versions are advised to update to
XOOPS 2.5.8.1
now.
Get XOOPS 2.5.8.1
Release files are available on
GitHub
.
The 2.5.8.1 files are also mirrored on the
XOOPS File Repository on SourceForge
Get XOOPS 2.5.7.3
Release files are available on the
XOOPS File Repository on SourceForge