News
b2evo 6.10.1, GDPR & mailing lists
For a while, I've tried to come up with newsletter styles / grouped news posts. The problem is that it never felt quite right to issue one without waiting for another's piece of news, and then another, etc.
So scratch that. I'm back to posting tidbits of news whenever they come up.
And here you have it: b2evo 6.10.1 (stable) has been released. Release notes here. You can download it or auto-upgrade it. We are using it on this site and a handful of others. It's proven stable already.
The reason we released 6.10.x and not 7.0.x is the infamous GDPR. (Do you enjoy all the GDPR related emails you get these days?)
b2evo 6.10.1 goes a long way toward GDPR compliance. I'm not saying 100% here because this regulation is very deep and we won't know for a while if we finally hit the bottom or not. One thing for sure, the FUD around it is even worse as with the previous cookie regulations. Anyways, if you find something that's "not GDPR enough" in your opinion, please let us know and we'll address it.
Ironically, the other big thing in 6.10 is mailing lists & automations. It's loaded with super powerful features but we haven't quite finished the doc yet. So I'll get back to you on that later. For now, let's just say it plays super nice with user preferences and easy unsubscribe and it is GDPR compatible ;) … but more on this later…
Cheers!
American Councils for International Education
Completed Drupal site or project URL:
Since 1974, American Councils for International Education (ACIE) has been making international education accessible for all. And today, the organization has built a global community of 85 countries and 89,000 alumni through cultural and academic exchanges, research assessments, language immersion programs, and professional development. ACIE's alumni include everyone from high school students to professionals, national leaders, ministers, members of parliament, ambassadors, and CEOs.
In an effort to improve national security, prosperity, and peace, ACIE's goal for its members is to prepare them to succeed in our increasingly interconnected and rapidly changing world. But ACIE most recently created a whole new set of strategic goals, and brought in Threespot, a digital communications agency, for a website redesign to expand its global impact, strengthen its financial standing, and build a stronger understanding of who they are. Threespot partnered with Inclind, ACIE's ongoing Drupal development partner to implement the new design and upgrade the website's functionality.
DC-based Threespot provides digital strategy, creative, and development services exclusively for organizations and ideas that align with their progressive values. Known for strong collaborative capabilities, Inclind brings to the table nearly 20 years of experience developing, designing, supporting and maintaining web content management systems. With ACIE's mission to prepare tomorrow's leaders for an ever-changing world and its need for a more modern and sophisticated Drupal site, a collaboration among the three organizations was a no-brainer.
"We've worked with Inclind in the past and they're a trusted partner," says Liz Ott, Director of Client Engagement with Threespot. "With collaborative projects like this, there's a real value in leveraging partner agencies for their strengths. Our track record working strategically with progressive nonprofits dovetailed nicely with Inclind's strengths as Drupal developers, giving ACIE the best of both worlds."
e107 v2.1.8 Bootstrap CMS Released
We're happy to announce the release of e107 v2.1.8!
This release contains some great improvements as well as bug fixes. We recommend everyone upgrade immediately.
New features
New functionalities for 'User ranks' (#2222)
New addon e_gsitemap for Sitemap generation. See forum plugin for an example.
Basic support for NGINX secure_link_md5 (#3075)
Basic support for GPDR related functionalities (#3175)
New addon e_output.php to capture the output of a page in a buffer (#3151)
Forum plugin: categories can be copied using the Admin-UI
Fixes & improvements:
Improved check for server requirements during installation
Improvements to the loading and ordering of CSS files
Numerous fixes related to the 'tree view' in the Admin-UI (News, Downloads, Sitelinks, etc.)
PHP 7.x compatibility fixes
Forum plugin: fixes to the newforumposts plugin
Admin-UI: Searching for IP addresses (including wildcards *) works again
Admin-UI: Added "Is Empty" option to type=number when filter is true.
Admin-UI: $field 'filter' attribute now accepts 'future' and 'both', defaults to 'past' when set to true. ie. search future dates, past/future dates or past dates.
And dozens for other fixes and improvements
For a full list of changes, please go here.
Please see our downloads section to download a copy.
Thank you for continuing to use e107!
Geeklog v2.2.0
Geeklog v2.2.0 is now available for download and is the recommended version for all production sites.
New features and fixes in this version include:
[Feature] Added Uikit 3 framework and new theme Denim_Three
[Feature] Blocks can now appear in more than just the left or right column. Block Locations can now be added by plugins and themes
[Feature] New CSS and JS processor to Minify and combine files
[Feature] ReCaptcha Plugin now included with the Geeklog Install
[Feature] ReCaptcha Plugin now supports Invisible Captcha
[Feature] New Passwords must contain a minimum of 8 characters and have at least 1 letter and 1 number
[Feature] Two Factor Authentication is available for user accounts
[Feature] You can now require all user accounts to have a verified email address (including remote accounts)
[Feature] New User Statuses Added (Locked, New Email Required, New Password Required)
[Feature] Akismet module now included with the SPAM-X plugin
[Feature] Built in Demo Mode
[Bug] Fixed After token expired re-authentication returns to a blank page once Authentication is successful
[Bug] Fixed Switch Language Block (and COM_getLanguageFromURL) to work on a topic page
... as well as a lot of other improvements and bug fixes. The complete list can be found on Github and in the history text file located in the docs directory of this release.
Note: A bug was found in the installer and Geeklog v2.2.0 that causes an error on servers with PHP v5.3 installed. Therefore for Geeklog v2.2.0 you should consider the minimum PHP version to be v5.5 (note added July 19, 2018)
Note: Make sure your 3rd party Geeklog plugins are updated to the latest version as they are required to use the function COM_createHTMLDocument. This replaces the functions COM_siteHeader and COM_siteFooter. If you are unsure if a plugin supports Geeklog v2.2.0 then either disable it before the Geeklog Upgrade, or uninstall the plugin.
Remember if you would like to chat with any of the community one of the best place to reach us is on Gitter in the Geeklog room.
Joomla 3.8.11 Release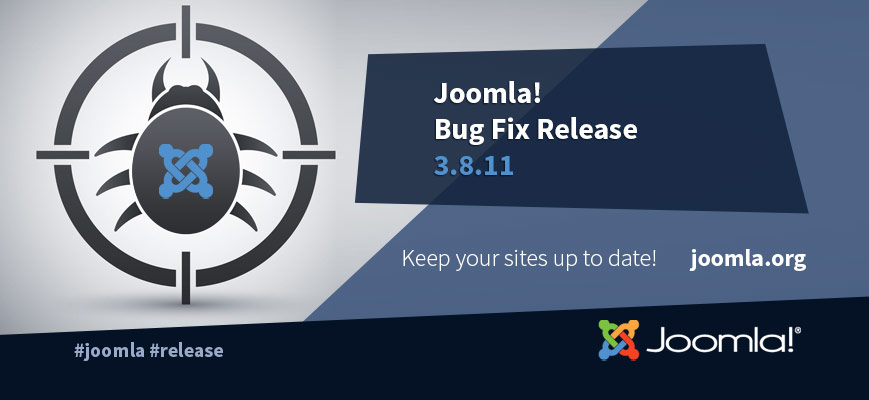 Joomla 3.8.11 is now available. This is a bug fix release for the 3.x series of Joomla including over 35 bug fixes and improvements.
Nucleus CMS is Back (Sort of)
Despite project close announcement one and a half years ago, some enthusiastic Japanese developers and users have been maintaining Nucleus CMS core.
And today, we are pleased to announce Nucleus CMS 3.70. This is a direct descent of the original Nucleus CMS, supports the same multiple languages.
Major fixes and improvements in this release are including (but not limited to) the following:
Enforced password security using phpass library instead of md5 hash
Default character code set is now utf-8, not iso8859-1
Added new event PreLoadMainLibs
Upcoming version 3.71 is pre-released in Japanese as well. New features in 3.71 are:
Fixed vulnerability described in VCE-2011-3760.
Support for PHP7 (Fixes in installer, embedded wrapper for mysql functions, etc.)
[New] Duplicate Item button in the item list screen
[New] Now you can arrange category order
... and more!
Nucleus CMS 3.70 is available for download from
download page
.
You are always welcome to post suggestions and questions for Nucleus CMS in the same old
English support forum
.
Also, all the core and major plugins are now maintained on
GitHub
. Please feel free to submit issues and of course pull requests.
Beside this code base, LMNucleus a fork from Nucleus by Leo is also available at
http://nucleus.slightlysome.net/
and
GitHub
.
Cheers, and happy blogging!
The Japanese Nucleus Team
Support for phpBB 3.1.x has ended
As per the
previous announcement
, support for phpBB 3.1.x has now ended.
The support forums have been locked, but are still available in a read-only form for reference in the phpBB Archives section of this board. All download links for phpBB 3.1.x will be removed shortly. If you still need those packages, you will be able to obtain them from
SourceForge
or
download.phpbb.com
.
While support for 3.1.x will not be available, support for converting to 3.2.x will still be available.
For those who receive support from an
international support site
, they will dictate their own support schedules and you should seek information from them.
Plone welcomes four students for the 2016 Google Summer of Code
We welcome these promising students exemplifying great diversity in geography and topics, and wish them a great Summer of Code!
Five Nights at Freddy's 4 Full Version - Feel the fear one last time
Review
Five Nights at Freddy's 4 is the fourth, and last (supposedly) release in the Five Nights at Freddy's saga. Developed and published by Scott Cawthon, this horror game has delighted all the fans of horror games, and has also raised the criticism from those that say that there are too many FNaF games. This time, you are not a security guard fighting for your life against creepy animatronics. Instead, you are a defenseless kid who struggles every night because of his terrifying nightmares (nightmares about creepy animatronics, of course).
Now, animatronics don't kill you, because they are just nightmares, but they can scare you as they have done since forever. Freddy, Bonnie, Chica, and Foxy have come back, and they have brought new nightmare friends with them. Also, the location is not an office anymore. It takes place in your own room, a room with a bed, two doors, and a dark closet. Each part of the room is dangerous since they are places where the animatronics can hide.
Moreover, the mechanics of the game have significantly changed compared to the previous tree installments in the saga. Now, you do not depend on your vision, or the cameras, because in this release, you don't have them. Now, you have to hear; you have to pay attention to every sound, breath, and laugh, because sound indicates where enemies will come from. It's recommended to play with earphones or with a very high volume. You are free to play with a regular sound volume, but you will not be able to hear your enemies.
Are you ready to say goodbye to your beloved animatronics?
As mentioned, the mechanics have changed. Now, you have nothing more than your senses and a flashlight to defend yourself. You have to control both doors, the closet, and the bed behind you. Animatronics can appear in any of the four places. What you have to do is walk bravely to the doors and the closet, listen carefully and if you hear something, close the door as fast as you can and hold it shut until the sound disappears. In case you don't hear anything, use the flashlight to prevent enemies from coming. The bed at your back has a little Freddy fluffy toy, but sometimes dreadful miniature Freddy's appear, followed by Nightmare Freddy himself. You have to shoo them with the flashlight unless you want Freddy to appear. It can seem easy, but the slightest mistake (using the flashlight when you hear a breath, or not closing the doors in time), will bring an end to the game.
Freddy, Bonnie, Chica, and Foxy have come back, and they have brought new nightmare friends with them
Talking about your friends the animatronics, when you download FNaF4, you will have to face six of them, eight if you take into account the "nonofficial" ones. You already know Freddy, Bonnie, Chica, and Foxy (nightmare version) but let me introduce you to Nightmare FredBear and Nightmare (plainly). All the animatronics in nightmare version are decrepit, broken, and especially scary. They have very long sharp teeth and glowing eyes, but Nightmare FredBear and Nightmare have even longer teeth, and they are very dangerous because they are unpredictable. This is especially true of Nightmare, since he is black and semi-transparent. They start appearing on nights 5 and 7, respectively.
Features
In this version, you can check out the main features of Five Nights at Freddy's 4:
A new story that reveals what happened in the Bite of the 87
A gloomy mini-game that allows you to skip the first two hours of the nights (if you are successful)
Nightmare version of the old and well-known animatronics (Bonnie, Freddy, Chica and Foxy)
4 new animatronics: Nightmare, Nightmare FredBear, Plushtrap and Nightmare Cupcake (Chica's cupcake can attack you know)
A new location
New mechanics based on the sounds
If you like this horror adventure, feel free to visit the developer's official website to discover all the features before you download it.
System Requirements
You can read here the minimum PC system requirements needed to download and play this game:
Operating System: Windows XP or later versions
Processor: AMD Athlon, Intel Pentium @ 2GHz or better
RAM Memory: 2 GB RAM
Hard Drive Space: at least 1 GB free available
Forum error
Hello experts!
I uninstalled 'Ad management mod' from my forum, and ever since then, my forum disappeared from web, my forum url cannot take me to my forum anymore.
Below is the error message, when ever I try to go to my forum:
"Webpage not available
T...
WordPress 4.9.8 Maintenance Release
We are pleased to announce the immediate availability of WordPress 4.9.8. This maintenance release fixes 46 bugs, enhancements and blessed tasks, including updating the Twenty Seventeen bundled theme. Following are the highlights of what is now available. "Try Gutenberg" callout Most users will now be presented with a notice in their WordPress dashboard. This "Try Gutenberg" […]
XOOPS PHPMailer Security Patches Released
The
XOOPS Development Team
is pleased to announce the release of
security patches for XOOPS 2.5.8 and XOOPS 2.5.7.2.
These patches includes the latest version of PHPMailer to address a serious vulnerability. All XOOPS users are encouraged to update as soon as possible.
Both full distributions and patch files (from the most recent prior release) for both the 2.5.7 and 2.5.8 series are available.
Any users that are running older XOOPS versions are advised to update to
XOOPS 2.5.8.1
now.
Get XOOPS 2.5.8.1
Release files are available on
GitHub
.
The 2.5.8.1 files are also mirrored on the
XOOPS File Repository on SourceForge
Get XOOPS 2.5.7.3
Release files are available on the
XOOPS File Repository on SourceForge