News
September 2020 update
b2evolution v7.2 is considered very stable now and used by many users as well PRO clients.
You can find b2evolution v7.x in the download area.
We also made a quick video to show v7 (others should follow):
Please note we will stop supporting b2evolution v6.x by the end of September 2020. If you haven't done so yet, we recommend that you upgrade to b2evolution v7 now. There are no specific issues with upgrading from v6 to v7. The v6 skins will work without modification on v7.
Everyone Stay Safe! ;)
Drupal 9.2.0 is available
What's new in Drupal 9.2.0?
The second feature release of Drupal 9 helps keep your site even more secure, and comes with increased visitor privacy protection, improved migration tools from Drupal 7, enhancements to the Olivero frontend theme and early support for the WebP image format.
Security and privacy improvements
Critical security advisories and public service announcements will now be displayed on the status report page and certain administration pages for the site's administrators. This helps prepare site owners to apply security fixes in a timely manner. For increased privacy protection of your site visitors, Drupal 9.2.0 now blocks Google Federated Learning of Cohorts (FLoC) cookie-less user tracking by default.
Better building blocks out of the box
The Olivero theme, soon to be Drupal's new default frontend theme, has dozens of major improvements in this release, including a new form design and various accessibility fixes. The built-in Umami demo is now also more flexible with a built-in editor role and more versatile Layout Builder demonstration.
On the way to Drupal 10
In preparation for Drupal 10, all Symfony 5 and and several Symfony 6 compatibility issues have been resolved. As part of modernizing the frontend of Drupal 9, core's Tour feature now uses ShepherdJS instead of jQuery Joyride. This significantly improves accessibility of tours and removes one more reliance on jQuery.
Other improvements
The already stable migration path from Drupal 7 is now expanded with migrations for user settings, node/user reference fields and other previously missing pieces.
Drupal's GD toolkit integration, and, therefore image styles, can now manage WebP images. There is more to do for complete WebP support. Stay tuned for improvements in future releases.
Sneak peek at future core features
The upcoming core CKEditor 5 upgrade is being worked on in a contributed project. Progress has been made on various aspects of the roadmap, and the project is near to completing all issues identified as requirements for tagging a beta release. Core inclusion is expected in Drupal 9.3.0, but contributed projects are requested to build compatibility ahead of that.
The Automated Updates Initiative has been very active in the repositories under https://github.com/php-tuf building a PHP implementation of The Update Framework (TUF) with Typo3 and Joomla developers to provide signing and verification for secure PHP application updates. Results will be included with later Drupal releases.
Check out the initiative keynotes from DrupalCon North America 2021 on what else is in the works.
What does this mean for me?
Drupal 9 site owners
Drupal 9.0.x is now out of security coverage. Update at least to 9.1.x to continue to receive security support.
Drupal 8 site owners
Update to at least 8.9.x to continue receiving bug fixes until Drupal 8's end of life in November 2021. The next bug-fix release (8.9.17) is scheduled for July 7, 2021. (See the release schedule overview for more information.) Versions of Drupal 8 before 8.9.x no longer receive security coverage.
With only five months left until the end of life of Drupal 8, we suggest that you upgrade from Drupal 8 to Drupal 9 as soon as possible. Upgrading is supported directly from 8.8.x and 8.9.x. Of the top 1000 most used drupal.org projects, 94% are updated for Drupal 9, so the modules and themes you rely on are most likely compatible.
Drupal 7 site owners
Drupal 7 is supported until November 28, 2022, and will continue to receive bug and security fixes throughout this time. From November 2022 until at least November 2025, the Drupal 7 Vendor Extended Support program will be offered by vendors.
On the other hand, the migration path for Drupal 7 sites to Drupal 9 is stable. Read more about the migration to Drupal 9.
Translation, module, and theme contributors
Minor releases like Drupal 9.2.0 include backwards-compatible API additions for developers as well as new features.
Since minor releases are backwards-compatible, modules, themes, and translations that supported Drupal 9.1.x and earlier will be compatible with 9.2.x as well. However, the new version does include some changes to strings, user interfaces, internal APIs and API deprecations. This means that some small updates may be required for your translations, modules, and themes. Read the 9.2.0 release notes for a full list of changes that may affect your modules and themes.
This release has further advanced the Drupal project and represents the efforts of hundreds of volunteers and contributors from various organizations. Thank you to everyone who contributed to Drupal 9.2.0!
Geeklog Plugins that Support v2.2.1
Here is a list of the latest plugins to receive updates since the release of Geeklog v2.2.1sr1. Some of these plugins will require this version.
Please note, we will continue to add to this list as plugins are released.
Here is a list of updated plugins expected to be release in the next few months:
These updated plugins support PHP 7.0+ and also contain new features and bug fixes as well. Please visit the download page of the specific plugin to find out more information. The plugins above can also be found on Github in our Geeklog Plugins Repository.
Updated: 2020-04-22 - Please note, that the new reCaptcha Plugin included with Geeklog v2.2.1 is not compatible with how the old reCaptcha plugin determines whether to display the reCaptcha or not on a page. This means older versions of plugins like the Forum that uses reCaptcha will either have to be updated to version 2.9.4 or the older plugin's code will have to have a small manual update (only if you want the reCaptcha to be used). See this Forum post for more information on the code you need to add to your older plugins if you want it to continue to use reCaptcha with it.
For a list of plugins that where updated after Geeklog 2.2.0 was released back in June of 2018, please see the article titled: Geeklog Plugins that Support v2.2.0.
All of these older plugins will work with Geeklog v2.2.1 as well.
Developers if you have a plugin which supports Geeklog v2.2.1 which has not been included in the list above please comment on this article to give us more information, and we will add it in. Remember you can also submit an article (and upload the file) about your plugin and after review (and editing if required) we will post it on Geeklog.net.
Joomla 3.9.26 Release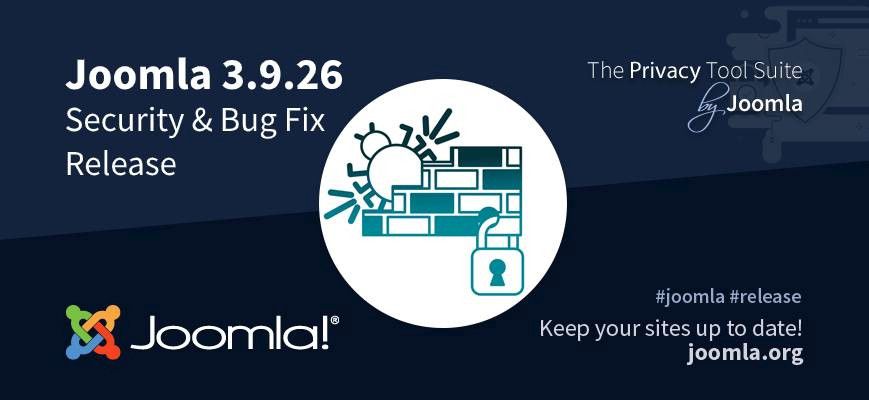 Joomla 3.9.26 is now available. This is a security release for the 3.x series of Joomla which addresses 2 security vulnerabilities and contains more than 30 bug fixes and improvements.
Nucleus CMS is Back (Sort of)
Despite project close announcement one and a half years ago, some enthusiastic Japanese developers and users have been maintaining Nucleus CMS core.
And today, we are pleased to announce Nucleus CMS 3.70. This is a direct descent of the original Nucleus CMS, supports the same multiple languages.
Major fixes and improvements in this release are including (but not limited to) the following:
Enforced password security using phpass library instead of md5 hash
Default character code set is now utf-8, not iso8859-1
Added new event PreLoadMainLibs
Upcoming version 3.71 is pre-released in Japanese as well. New features in 3.71 are:
Fixed vulnerability described in VCE-2011-3760.
Support for PHP7 (Fixes in installer, embedded wrapper for mysql functions, etc.)
[New] Duplicate Item button in the item list screen
[New] Now you can arrange category order
... and more!
Nucleus CMS 3.70 is available for download from
download page
.
You are always welcome to post suggestions and questions for Nucleus CMS in the same old
English support forum
.
Also, all the core and major plugins are now maintained on
GitHub
. Please feel free to submit issues and of course pull requests.
Beside this code base, LMNucleus a fork from Nucleus by Leo is also available at
http://nucleus.slightlysome.net/
and
GitHub
.
Cheers, and happy blogging!
The Japanese Nucleus Team
phpBB 3.3.5 Release
Greetings everyone,
We are pleased to announce the release of phpBB 3.3.5 "Ich bin ein Bertie". This version is a maintenance release of the 3.3.x branch which introduces a new helper function lang_js() for twig templates and resolves various issues reported in previous versions.
The fixes include, among others, further improvements on PHP 8 compatibility as well as some issues with migrations when upgrading or converting a board to the latest version of phpBB. In addition to that, some issues with the database handling for PostgreSQL, e.g. during backups, were also resolved.
We also introduced a bit of hardening in the form of disallowing specific UTF8 whitespace characters with zero or near zero width in usernames. These characters could cause some usernames to be confused with each other and hence we decided to specifically filter these.
The full list of changes is available in the changelog file within the docs folder contained in the release package. You can find the key highlights of this release
below
and a list of all issues fixed on our tracker at
https://tracker.phpbb.com/issues/?filter=15890
The packages can be downloaded from our downloads page.
The development team thanks everyone who contributed code to this release: 3D-I, rxu, Alec, Patrick Webster, Prosk8er, v12mike, Alfredo Ramos, David Colón, Matt Friedman, MichaIng, William Desportes, Paul, toxyy
If you have any questions or comments, we'll be happy to address them in the
discussion topic
.
- The phpBB Team
Re: Stars and Badges mod for 2.1 ?
Quote from: d3vcho on Today at 01:23:58 PM

Quote from: Doug Heffernan on Today at 09:23:59 AMMy answer to your question and my suggestion as well, were/are very valid. But no worries, I will not waste anymore of my time on your...
WP Briefing: Episode 18: The Economics of WordPress
In episode 18 of WP Briefing, Josepha Haden Chomphosy reflects on a recent lecture that she gave to students at Hendrix College in which she explored the economics of WordPress and the principles that sustain the project's ecosystem. Have a question you'd like answered? You can submit them to wpbriefing@wordpress.org, either written or as a […]
XOOPS PHPMailer Security Patches Released
The
XOOPS Development Team
is pleased to announce the release of
security patches for XOOPS 2.5.8 and XOOPS 2.5.7.2.
These patches includes the latest version of PHPMailer to address a serious vulnerability. All XOOPS users are encouraged to update as soon as possible.
Both full distributions and patch files (from the most recent prior release) for both the 2.5.7 and 2.5.8 series are available.
Any users that are running older XOOPS versions are advised to update to
XOOPS 2.5.8.1
now.
Get XOOPS 2.5.8.1
Release files are available on
GitHub
.
The 2.5.8.1 files are also mirrored on the
XOOPS File Repository on SourceForge
Get XOOPS 2.5.7.3
Release files are available on the
XOOPS File Repository on SourceForge