News
September 2017 Update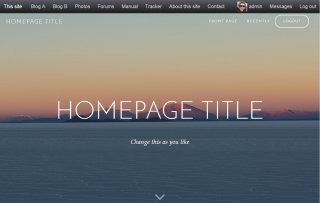 Ok, so we're definitely late on delivering the news… but we have been delivering quite a few new releases!
First, in the 6.8.x branch: 6.8.8-stable, 6.8.9-stable, 6.8.10-stable and 6.8.11-stable. These were mostly stability improvements. We will probably not update the 6.8.x branch any more and, at this time, we encourage everyone to upgrade to the 6.9.x branch!
Then, in the 6.9.x branch: 6.9.1-beta, 6.9.2-beta and 6.9.3-stable. 6.9.3 is really the best option for almost everyone at this point. Read through all release notes to see the new features!! In a nutshell: more settings for customizing skins, new widgets, enhanced plugins (including video plugins), enhanced custom fields, better search feature, enhanced wordpress importer, extended REST API, many new back-office tools.
What comes next? 7.0 of course! Mind you, we have been working on it for over a year already! Expect an alpha release in the next couple of weeks.
And last but not least, we have released a new skin: Jared Skin… with more new skins to come in the next couple of weeks.
As you can see… we've been so busy with the new developments that we almost forgot to tell you about them! We'll try to be a bit more chatty in the future ;)
Community Spotlight: Rwandan enthusiasm for Drupal causes big challenge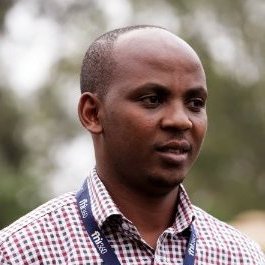 For Ildephonse Bikino (bikilde) of Rwanda, it was supposed to be an uneventful Drupal Global Training Day call-out; he expected 50 people but he got 388!
Bikino began working to get local interest in Drupal, sharing information by creating a simple website and posting information about the trainings on groups.drupal.org and sharing it locally.
Hoping to reach the room capacity of 50 people, the registrations came flowing in.
"The venue, which is kLab, where I was expecting to run my first training, they only accommodate 50 people. And the channel I used to announce the training, I was not expecting too many people attending, but people ...shared my communication to different channels and in so many different ways. I was surprised to get more than 388 applications."
How do you deal with the logistics of training 388 people? That's hard! Bikino was committed to the challenge. One session became eight over a number of weekends. Bikino made sure everyone got the opportunity to attend!
Discovering Drupal
Bikino's start with Drupal began commonly enough; through his job. Like many small teams, staff get mixed roles and he inherited the website role. His experience grew from there. In 2016 he had the opportunity to attend DrupalCon New Orleans via scholarship through the Drupal Association. This let him discover the global opportunities and connections that open source software and the Drupal community can provide.
"My interest [in going to DrupalCon New Orleans] was to learn how thousands of people can just work together to deliver one single platform, how it works, and how people can really do it as volunteering work and through contributions. [The experience left me feeling that] I could really share that culture and community with young Rwandan people… and how they can love what they are doing this much. That's where my inspiration came from."
Bikino says technology offers more than just jobs, it provides local activities, ways to collaborate, and a chance to build knowledge. He plans to create a platform for the Rwanda Drupal community to share skills, projects, opportunities and experience.
Moving Forward
The local support for the Drupal Global Training Day is a sign of changing times in Rwanda. Those attending the training are educated, but there can be a lack of connection between what they are learning in school and the outside market. Bikino wants to connect those gaps by creating opportunities to learn, build, and develop. Like many countries across the globe, the Rwandan government sees technology as a way to build economic diversity, nurture jobs, and transform the country.
Local Projects
The Rwanda Information and Communication Association (RICTA) and partners launched The 1K Websites project, to promote Local Content Hosting. For now most of the websites made are Government, but they are expanding the project. With good internet infrastructure already in place, this is the start of local content creation and websites for business and community..
Diversity in the community is going to be a challenge, but Bikino realises it's an important one. The Sustainable Development Goals 5 is "achieve gender equality and empower women and girls", and access to technology in developing countries such as Rwanda is important for sustainability. Bikino is actively working with kLab management to find funds to develop opportunities for women in technology.
The Future
The last group of the 388 people have just gone through their training. The aim now is to develop local freelancers, do projects within the community, and find mentors to share tips, guidance and best practices. The group would even like to contribute to translating Drupal into the local language (Kinyarwanda). And of course one day, host an African DrupalCon.
Peel away the layers of an impressive attendance to a Drupal Global Training Day event, and you have a story about the potential for technology and Drupal to transform people, communities and industry.
You can follow and connect with Bikino via Twitter or say hi to him in the Drupal Slack. Bikino is the Deputy Director for ICT in Education Projects with FHI 360.
Next Spotlight?
Our next spotlight will be Fatima Sarah Khalid who you may recognise as @sugaroverflow. To those watching DrupalConEur from twitter it looked like no one had more fun than her! Fatima is going to be interviewed by Nikki Stevens who you may recognise as @drnikki. We think it's going to be very cool.
We are also going to have our new Drupal Spotlight site up very soon. If you see Chandeep having too much fun at Drupal events around Europe tell him to get home and finish the site install - we have big ideas!
e107 v2.1.6 Bootstrap CMS Released
We're happy to announce the release of e107 v2.1.6!
This release contains some great improvements as well as bug fixes. We recommend everyone upgrade immediately.
Fixes/Improvements:
TinyMce updated to 4.5.6
PHP Mailer Upgrade to 5.2.23
Improvements to sending email procedure (SMTP)
Bug fixes to plugins: Chatbox, Downloads, FAQ, Featurebox, Forum
News: meta-description character limit option added. ie. {NEWS_DESCRIPTION: limit=x}
Downloads: now supports file in root directory (no longer 'parent > child" needed)
Several fixes to SEFL URLs, including automatic generation
Numerous LAN enhancements (thanks @yesszus)
Caching improvements
Improvements to meta-tags
Further fixes for PHP 7.1 compatibility
Fixes to the backup/export functionality
Javascript files are now moved to the footer
Improved logging to system logs (especially SQL queries)
Improved sessions handling (should prevent sudden logout)
And literally dozens of other bugfixes and optimizations
New features:
Language-Packs can now be downloaded and installed without leaving the admin area
New MySQL method selectTree()
New constant e_HTTP_STATIC
New constant e_VERSION which returns the currently installed version of e107
Custom TinyMCE snippets can now be placed in the theme folder as custom templates: templates/tinymce/snippets
Ability to override site path (hash) by defining $E107_CONFIG['site_path'] in e107_config.php
Table data from e107 v1.x "Content Management" plugin can now be imported into "Pages/Menus"
For a full list of changes, please go here.
Please see our downloads section to download a copy.
Thank you for continuing to use e107!
DokuWiki Plugin v1.9.0
The Geeklog DokuWiki Plugin v1.9.0 is now available for download.
The DokuWiki Integration Plugin for Geeklog provides an integration with your Geeklog v2.1.1+ website. This plugin is based on DokuWiki 2016-06-26a "Elenor of Tsort", " which is the latest release at the time of this writing.
If you find any bugs or wish to request a feature, please add them to our issues tracker.
Joomla! 3.8.1 Release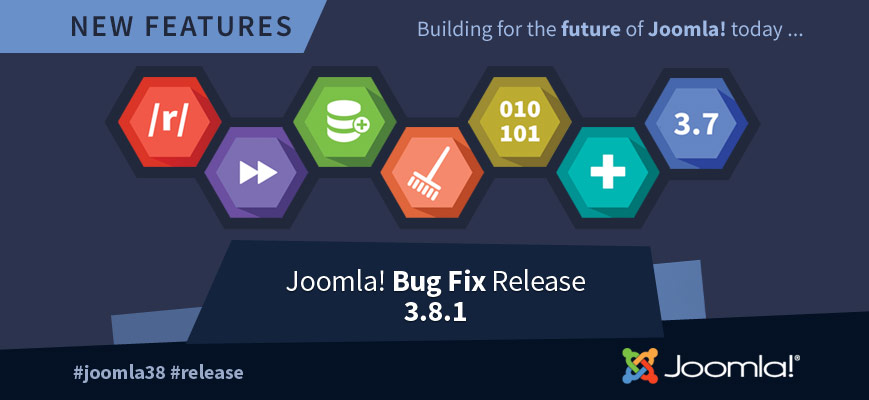 Joomla! 3.8.1 is now available. This is a bug fix release for the 3.x series of Joomla fixing bugs which were reported after the 3.8.0 release.
Nucleus CMS is Back (Sort of)
Despite project close announcement one and a half years ago, some enthusiastic Japanese developers and users have been maintaining Nucleus CMS core.
And today, we are pleased to announce Nucleus CMS 3.70. This is a direct descent of the original Nucleus CMS, supports the same multiple languages.
Major fixes and improvements in this release are including (but not limited to) the following:
Enforced password security using phpass library instead of md5 hash
Default character code set is now utf-8, not iso8859-1
Added new event PreLoadMainLibs
Upcoming version 3.71 is pre-released in Japanese as well. New features in 3.71 are:
Fixed vulnerability described in VCE-2011-3760.
Support for PHP7 (Fixes in installer, embedded wrapper for mysql functions, etc.)
[New] Duplicate Item button in the item list screen
[New] Now you can arrange category order
... and more!
Nucleus CMS 3.70 is available for download from
download page
.
You are always welcome to post suggestions and questions for Nucleus CMS in the same old
English support forum
.
Also, all the core and major plugins are now maintained on
GitHub
. Please feel free to submit issues and of course pull requests.
Beside this code base, LMNucleus a fork from Nucleus by Leo is also available at
http://nucleus.slightlysome.net/
and
GitHub
.
Cheers, and happy blogging!
The Japanese Nucleus Team
Reintroducing phpBB Ideas
Greetings everyone,
We're really glad to announce that
phpBB Ideas
is back. The new ideas center is an extension with a greatly improved UI, making suggesting, discussing, and voting on features a pleasant experience.
Head on over and share your ideas!
If you have any thoughts, tell us in the
discussion topic
.
- The phpBB Team
Plone welcomes four students for the 2016 Google Summer of Code
We welcome these promising students exemplifying great diversity in geography and topics, and wish them a great Summer of Code!
Five Nights at Freddy's 4 Full Version - Feel the fear one last time
Review
Five Nights at Freddy's 4 is the fourth, and last (supposedly) release in the Five Nights at Freddy's saga. Developed and published by Scott Cawthon, this horror game has delighted all the fans of horror games, and has also raised the criticism from those that say that there are too many FNaF games. This time, you are not a security guard fighting for your life against creepy animatronics. Instead, you are a defenseless kid who struggles every night because of his terrifying nightmares (nightmares about creepy animatronics, of course).
Now, animatronics don't kill you, because they are just nightmares, but they can scare you as they have done since forever. Freddy, Bonnie, Chica, and Foxy have come back, and they have brought new nightmare friends with them. Also, the location is not an office anymore. It takes place in your own room, a room with a bed, two doors, and a dark closet. Each part of the room is dangerous since they are places where the animatronics can hide.
Moreover, the mechanics of the game have significantly changed compared to the previous tree installments in the saga. Now, you do not depend on your vision, or the cameras, because in this release, you don't have them. Now, you have to hear; you have to pay attention to every sound, breath, and laugh, because sound indicates where enemies will come from. It's recommended to play with earphones or with a very high volume. You are free to play with a regular sound volume, but you will not be able to hear your enemies.
Are you ready to say goodbye to your beloved animatronics?
As mentioned, the mechanics have changed. Now, you have nothing more than your senses and a flashlight to defend yourself. You have to control both doors, the closet, and the bed behind you. Animatronics can appear in any of the four places. What you have to do is walk bravely to the doors and the closet, listen carefully and if you hear something, close the door as fast as you can and hold it shut until the sound disappears. In case you don't hear anything, use the flashlight to prevent enemies from coming. The bed at your back has a little Freddy fluffy toy, but sometimes dreadful miniature Freddy's appear, followed by Nightmare Freddy himself. You have to shoo them with the flashlight unless you want Freddy to appear. It can seem easy, but the slightest mistake (using the flashlight when you hear a breath, or not closing the doors in time), will bring an end to the game.
Freddy, Bonnie, Chica, and Foxy have come back, and they have brought new nightmare friends with them
Talking about your friends the animatronics, when you download FNaF4, you will have to face six of them, eight if you take into account the "nonofficial" ones. You already know Freddy, Bonnie, Chica, and Foxy (nightmare version) but let me introduce you to Nightmare FredBear and Nightmare (plainly). All the animatronics in nightmare version are decrepit, broken, and especially scary. They have very long sharp teeth and glowing eyes, but Nightmare FredBear and Nightmare have even longer teeth, and they are very dangerous because they are unpredictable. This is especially true of Nightmare, since he is black and semi-transparent. They start appearing on nights 5 and 7, respectively.
Features
In this version, you can check out the main features of Five Nights at Freddy's 4:
A new story that reveals what happened in the Bite of the 87
A gloomy mini-game that allows you to skip the first two hours of the nights (if you are successful)
Nightmare version of the old and well-known animatronics (Bonnie, Freddy, Chica and Foxy)
4 new animatronics: Nightmare, Nightmare FredBear, Plushtrap and Nightmare Cupcake (Chica's cupcake can attack you know)
A new location
New mechanics based on the sounds
If you like this horror adventure, feel free to visit the developer's official website to discover all the features before you download it.
System Requirements
You can read here the minimum PC system requirements needed to download and play this game:
Operating System: Windows XP or later versions
Processor: AMD Athlon, Intel Pentium @ 2GHz or better
RAM Memory: 2 GB RAM
Hard Drive Space: at least 1 GB free available
Re: Mod that's let's any moderator/admin post in a topic be stickied at the top
Why do you need a mod, you can do this with core permissions
WordPress 4.9 Beta 3
WordPress 4.9 Beta 3 is now available! This software is still in development, so we don't recommend you run it on a production site. Consider setting up a test site just to play with the new version. To test WordPress 4.9, try the WordPress Beta Tester plugin (you'll want "bleeding edge nightlies"). Or you can download the beta here (zip). […]
Spotlight premium theme [Commercial]
I am very pleased to announce you the availability of Spotlight, a highly customizable premium theme for XOOPS.
Spotlight comes with a lot of features integrated:
A control panel that will allows you to configure all theme features.
Unlimited colors support to create your own...