News
September 2020 update
b2evolution v7.2 is considered very stable now and used by many users as well PRO clients.
You can find b2evolution v7.x in the download area.
We also made a quick video to show v7 (others should follow):
Please note we will stop supporting b2evolution v6.x by the end of September 2020. If you haven't done so yet, we recommend that you upgrade to b2evolution v7 now. There are no specific issues with upgrading from v6 to v7. The v6 skins will work without modification on v7.
Everyone Stay Safe! ;)
Delivering an Industry Leading Search Experience for CarsIreland.ie
Completed Drupal site or project URL:
Cars Ireland is Ireland's largest new and used vehicles classifieds website. With a catalogue of over 50,000 vehicles available from dealers and private sellers, the Cars Ireland website is a 24-hour business.
Together with the teams at Cars Ireland and Each & Other, Annertech partnered to redesign and rebuild Cars Ireland's digital platform – CarsIreland.ie.
Following an extensive UX and Design process, Annertech took on the project to bring the research and design to life. The Cars Ireland website is, at its core, a search interface. The focus of the project was to create a search interface which was faster and more effective than Cars Ireland's competitors.
Geeklog Plugins that Support v2.2.1
Here is a list of the latest plugins to receive updates since the release of Geeklog v2.2.1sr1. Some of these plugins will require this version.
Please note, we will continue to add to this list as plugins are released.
Here is a list of updated plugins expected to be release in the next few months:
These updated plugins support PHP 7.0+ and also contain new features and bug fixes as well. Please visit the download page of the specific plugin to find out more information. The plugins above can also be found on Github in our Geeklog Plugins Repository.
Updated: 2020-04-22 - Please note, that the new reCaptcha Plugin included with Geeklog v2.2.1 is not compatible with how the old reCaptcha plugin determines whether to display the reCaptcha or not on a page. This means older versions of plugins like the Forum that uses reCaptcha will either have to be updated to version 2.9.4 or the older plugin's code will have to have a small manual update (only if you want the reCaptcha to be used). See this Forum post for more information on the code you need to add to your older plugins if you want it to continue to use reCaptcha with it.
For a list of plugins that where updated after Geeklog 2.2.0 was released back in June of 2018, please see the article titled: Geeklog Plugins that Support v2.2.0.
All of these older plugins will work with Geeklog v2.2.1 as well.
Developers if you have a plugin which supports Geeklog v2.2.1 which has not been included in the list above please comment on this article to give us more information, and we will add it in. Remember you can also submit an article (and upload the file) about your plugin and after review (and editing if required) we will post it on Geeklog.net.
Joomla 3.9.26 Release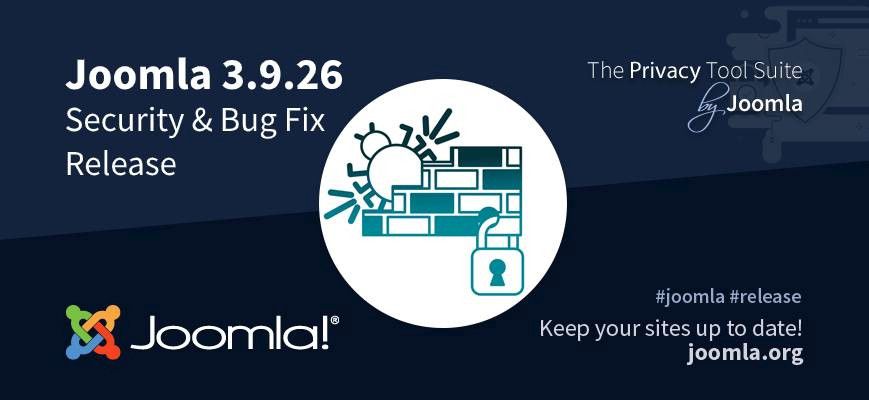 Joomla 3.9.26 is now available. This is a security release for the 3.x series of Joomla which addresses 2 security vulnerabilities and contains more than 30 bug fixes and improvements.
Nucleus CMS is Back (Sort of)
Despite project close announcement one and a half years ago, some enthusiastic Japanese developers and users have been maintaining Nucleus CMS core.
And today, we are pleased to announce Nucleus CMS 3.70. This is a direct descent of the original Nucleus CMS, supports the same multiple languages.
Major fixes and improvements in this release are including (but not limited to) the following:
Enforced password security using phpass library instead of md5 hash
Default character code set is now utf-8, not iso8859-1
Added new event PreLoadMainLibs
Upcoming version 3.71 is pre-released in Japanese as well. New features in 3.71 are:
Fixed vulnerability described in VCE-2011-3760.
Support for PHP7 (Fixes in installer, embedded wrapper for mysql functions, etc.)
[New] Duplicate Item button in the item list screen
[New] Now you can arrange category order
... and more!
Nucleus CMS 3.70 is available for download from
download page
.
You are always welcome to post suggestions and questions for Nucleus CMS in the same old
English support forum
.
Also, all the core and major plugins are now maintained on
GitHub
. Please feel free to submit issues and of course pull requests.
Beside this code base, LMNucleus a fork from Nucleus by Leo is also available at
http://nucleus.slightlysome.net/
and
GitHub
.
Cheers, and happy blogging!
The Japanese Nucleus Team
phpBB 3.3.4 Release
Greetings everyone,
We are pleased to announce the release of phpBB 3.3.4 "Bertie's garden work". This version is a maintenance release of the 3.3.x branch which adds support for WebP images, improves the wording in email templates, and resolves various issues reported in previous versions.
The fixes include, among others, further improvements on PHP 8 compatibility as well as an issue with database names containing a dash that could prevent some admins from accessing the Administration Control Panel (ACP).
A small change that was also introduced is the possibility for CAPTCHAs to define a custom message that is displayed when a CAPTCHA is shown due to exceeding the maximum allowable number of login attempts.
The full list of changes is available in the changelog file within the docs folder contained in the release package. You can find the key highlights of this release on the wiki at
https://wiki.phpbb.com/Release_Highlights/3.3.4
and a list of all issues fixed on our tracker at
https://tracker.phpbb.com/issues/?filter=15690
The packages can be downloaded from our downloads page.
The development team thanks everyone who contributed code to this release: 3D-I, Christian Schnegelberger, Dark❶, DinHere, rxu, Matt Friedman, Alfredo Ramos
If you have any questions or comments, we'll be happy to address them in the
discussion topic
.
- The phpBB Team
Aprende A Subir Una App En PHP Para Conectar Con La Base De Datos De Tu Hosting
Hola qué tal amigos, les quiero enseñar como subir una pagina que está en este caso una aplicación web en PHP, es una aplicación bien
Re: NightBreeze
Do you have any plans of updating your live demo site? It has appeared to be offline for awhile now and I would love to try some themes of yours.
WordPress 5.8 Beta 2
WordPress 5.8 Beta 2 is now available for testing! This software is still in development, so it's not recommended to run this version on a production site. Consider setting up a test site to play with it. You can test the WordPress 5.8 Beta 2 in two ways: Install/activate the WordPress Beta Tester plugin (select the Bleeding […]
XOOPS PHPMailer Security Patches Released
The
XOOPS Development Team
is pleased to announce the release of
security patches for XOOPS 2.5.8 and XOOPS 2.5.7.2.
These patches includes the latest version of PHPMailer to address a serious vulnerability. All XOOPS users are encouraged to update as soon as possible.
Both full distributions and patch files (from the most recent prior release) for both the 2.5.7 and 2.5.8 series are available.
Any users that are running older XOOPS versions are advised to update to
XOOPS 2.5.8.1
now.
Get XOOPS 2.5.8.1
Release files are available on
GitHub
.
The 2.5.8.1 files are also mirrored on the
XOOPS File Repository on SourceForge
Get XOOPS 2.5.7.3
Release files are available on the
XOOPS File Repository on SourceForge