News
b2evolution 6.11-beta with webmentions support
We just released b2evolution version 6.11.0-beta.
Among other features, it supports webmentions, as previously promised here.
Building a Decoupled LMS for Estee Lauder
Completed Drupal site or project URL:
* The given URL is gated, as per the client's request.
Estee Lauder is a global leader in prestige beauty — delighting its consumers with its transformative products and experiences, inspiring them to express their individual beauty. It takes pride in focussing solely on prestige makeup and beauty care with a diverse portfolio of 25+ brands distributed globally through eCommerce channels and retail outlets sold in 150 countries.
They aim to transform the beauty industry landscape with their customer service by providing modern training and understanding of the products with (digital solutions) to its teams.
Srijan worked closely to design an open-source, multilingual, decoupled learning platform where beauty advisors could consume a vast set of learning resources.
Here's how we helped them reduce 30% cost in classroom training while also able to track ROI from the learning and training initiatives.
e107 v2.1.9 Bootstrap CMS Released
We're happy to announce the release of e107 v2.1.9!
This release contains some great improvements as well as bug fixes. We recommend everyone upgrade immediately.
New features
It is now possible to override the chosen editor pref (WYSIWYG), using the e107::getForm()->bbarea() method by changing the $options array, e.g. $options['wysiwyg'] = 'tinymce4' (#3330)
Added option define('X-FRAME-SAMEORIGIN', false); in e107_config to allow for external websites including an e107 website through an iframe (#3101)
Fixes & improvements:
Fixed issue in update routine caused by an incorrect version number (#3302 #3311)
Added backwards compatibility fix to handle old data formatting better (#3305)
Fixed issue with multiple userclass selection in the Admin UI (#3249)
The CSS file ensuring backwards compatibility for non-boostrap or legacy themes (backcompat.css) is now correctly loaded
Fixed issue with LAN's not loading properly on contact.php page
Fixed issue with parsing the sign (#3307)
Fixed issue with 'To' textbox not showing in mail-out functionality (#3303)
Fixed issue with missing navigation text in Admin Area when using 'medium' width devices
Improved support for SVG icons (#1958)
Fixed several issues related to the displaying of comments (#2425 #2281 #2937)
Fixed issue so 'Items per page' option is now respected on custom pages (#3188)
Added default custom fields to Bootstrap 3 template (#3103)
Improved support for Cyrillic characters on registration and login (#2440)
Plugin Builder generated output improved with examples of custom filter and batch options.
Fixed an issue with the language packs not displaying in the Admin Area (#3059)
Added e_gsitemap addon to News and Download plugin (#2606)
Fixed an issue with error pages and redirection (#3179)
Added new event triggers and notifications for the Forum plugin: user_forum_topic_created_probationary, user_forum_topic_updated, user_forum_topic_moved, user_forum_topic_deleted, user_forum_topic_split, user_forum_post_created, user_forum_post_updated, user_forum_post_deleted, user_forum_post_report
Added BBcode template for Forum plugin (#3317)
New preferences in Forum plugin which allow to choose between BBcode or TinyMCE editor (#3318)
Fixed issues with Forum plugin URLs (#3171)
Fixed URL issue in Forum plugin when moving a forum topic (#3244)
Improved Forum parsing: forum titles are only shown using plain text (no HTML or BBcode) (#3245)
Fixed an issue in the forum plugin when marking a forum topic as 'read' (#3338)
Fixed issue in the featurebox plugin which caused debug information to show (#3290 #3074)
Fixed issue with incorrect 'update required' message showing for the featurebox plugin
Several PHP 7 compatibility fixes
And dozens more fixes and improvements
For a full list of changes, please go here.
Please see our downloads section to download a copy.
Important Update
Anyone experiencing core-prefs backward compatibility issues after this upgrade, please use this patch.
Thank you for continuing to use e107!
Geeklog v2.2.0
Geeklog v2.2.0 is now available for download and is the recommended version for all production sites.
New features and fixes in this version include:
[Feature] Added Uikit 3 framework and new theme Denim_Three
[Feature] Blocks can now appear in more than just the left or right column. Block Locations can now be added by plugins and themes
[Feature] New CSS and JS processor to Minify and combine files
[Feature] ReCaptcha Plugin now included with the Geeklog Install
[Feature] ReCaptcha Plugin now supports Invisible Captcha
[Feature] New Passwords must contain a minimum of 8 characters and have at least 1 letter and 1 number
[Feature] Two Factor Authentication is available for user accounts
[Feature] You can now require all user accounts to have a verified email address (including remote accounts)
[Feature] New User Statuses Added (Locked, New Email Required, New Password Required)
[Feature] Akismet module now included with the SPAM-X plugin
[Feature] Built in Demo Mode
[Bug] Fixed After token expired re-authentication returns to a blank page once Authentication is successful
[Bug] Fixed Switch Language Block (and COM_getLanguageFromURL) to work on a topic page
... as well as a lot of other improvements and bug fixes. The complete list can be found on Github and in the history text file located in the docs directory of this release.
Note: A bug was found in the installer and Geeklog v2.2.0 that causes an error on servers with PHP v5.3 installed. Therefore for Geeklog v2.2.0 you should consider the minimum PHP version to be v5.5 (note added July 19, 2018)
Note: Make sure your 3rd party Geeklog plugins are updated to the latest version as they are required to use the function COM_createHTMLDocument. This replaces the functions COM_siteHeader and COM_siteFooter. If you are unsure if a plugin supports Geeklog v2.2.0 then either disable it before the Geeklog Upgrade, or uninstall the plugin.
Remember if you would like to chat with any of the community one of the best place to reach us is on Gitter in the Geeklog room.
Joomla 3.9.5 Release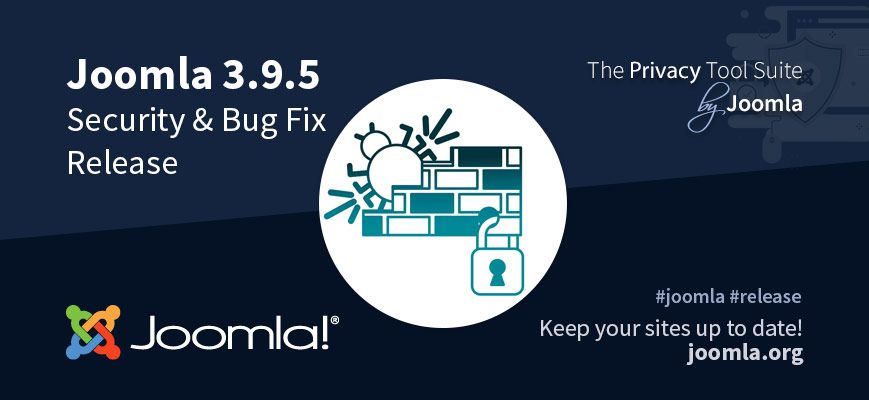 Joomla 3.9.5 is now available. This is a security fix release for the 3.x series of Joomla which addresses three security vulnerabilities and contains over 20 bug fixes and improvements.
Nucleus CMS is Back (Sort of)
Despite project close announcement one and a half years ago, some enthusiastic Japanese developers and users have been maintaining Nucleus CMS core.
And today, we are pleased to announce Nucleus CMS 3.70. This is a direct descent of the original Nucleus CMS, supports the same multiple languages.
Major fixes and improvements in this release are including (but not limited to) the following:
Enforced password security using phpass library instead of md5 hash
Default character code set is now utf-8, not iso8859-1
Added new event PreLoadMainLibs
Upcoming version 3.71 is pre-released in Japanese as well. New features in 3.71 are:
Fixed vulnerability described in VCE-2011-3760.
Support for PHP7 (Fixes in installer, embedded wrapper for mysql functions, etc.)
[New] Duplicate Item button in the item list screen
[New] Now you can arrange category order
... and more!
Nucleus CMS 3.70 is available for download from
download page
.
You are always welcome to post suggestions and questions for Nucleus CMS in the same old
English support forum
.
Also, all the core and major plugins are now maintained on
GitHub
. Please feel free to submit issues and of course pull requests.
Beside this code base, LMNucleus a fork from Nucleus by Leo is also available at
http://nucleus.slightlysome.net/
and
GitHub
.
Cheers, and happy blogging!
The Japanese Nucleus Team
phpBB 3.2.5 Release
Greetings everyone,
We are pleased to announce the release of phpBB 3.2.5 "Bertie's Secret Santa". This version is a maintenance release of the 3.2.x branch which fixes various issues reported in previous versions.
The fixed issues include, among others, a BBCode parsing regression in the
generate_text_for_display()
function, a missing variable cast on the ACP extensions page, as well as a fix to how the assets version gets appended to JavaScript files included via
INCLUDEJS
.
The full list of changes is available in the changelog file within the docs folder contained in the release package. You can find the key highlights of this release on the wiki at
https://wiki.phpbb.com/Release_Highlights/3.2.5
and a list of all issues fixed on our tracker at
https://tracker.phpbb.com/issues/?filter=14890
The packages can be downloaded from our downloads page.
The development team thanks everyone who contributed code to this release: 3Di, rxu, Alec, hubaishan, Dark❶, Jakub Senko, Jim Mossing Holsteyn, Vinny
If you have any questions or comments, we'll be happy to address them in the
discussion topic
.
- The phpBB Team
Plone welcomes four students for the 2016 Google Summer of Code
We welcome these promising students exemplifying great diversity in geography and topics, and wish them a great Summer of Code!
Five Nights at Freddy's 4 Full Version - Feel the fear one last time
Review
Five Nights at Freddy's 4 is the fourth, and last (supposedly) release in the Five Nights at Freddy's saga. Developed and published by Scott Cawthon, this horror game has delighted all the fans of horror games, and has also raised the criticism from those that say that there are too many FNaF games. This time, you are not a security guard fighting for your life against creepy animatronics. Instead, you are a defenseless kid who struggles every night because of his terrifying nightmares (nightmares about creepy animatronics, of course).
Now, animatronics don't kill you, because they are just nightmares, but they can scare you as they have done since forever. Freddy, Bonnie, Chica, and Foxy have come back, and they have brought new nightmare friends with them. Also, the location is not an office anymore. It takes place in your own room, a room with a bed, two doors, and a dark closet. Each part of the room is dangerous since they are places where the animatronics can hide.
Moreover, the mechanics of the game have significantly changed compared to the previous tree installments in the saga. Now, you do not depend on your vision, or the cameras, because in this release, you don't have them. Now, you have to hear; you have to pay attention to every sound, breath, and laugh, because sound indicates where enemies will come from. It's recommended to play with earphones or with a very high volume. You are free to play with a regular sound volume, but you will not be able to hear your enemies.
Are you ready to say goodbye to your beloved animatronics?
As mentioned, the mechanics have changed. Now, you have nothing more than your senses and a flashlight to defend yourself. You have to control both doors, the closet, and the bed behind you. Animatronics can appear in any of the four places. What you have to do is walk bravely to the doors and the closet, listen carefully and if you hear something, close the door as fast as you can and hold it shut until the sound disappears. In case you don't hear anything, use the flashlight to prevent enemies from coming. The bed at your back has a little Freddy fluffy toy, but sometimes dreadful miniature Freddy's appear, followed by Nightmare Freddy himself. You have to shoo them with the flashlight unless you want Freddy to appear. It can seem easy, but the slightest mistake (using the flashlight when you hear a breath, or not closing the doors in time), will bring an end to the game.
Freddy, Bonnie, Chica, and Foxy have come back, and they have brought new nightmare friends with them
Talking about your friends the animatronics, when you download FNaF4, you will have to face six of them, eight if you take into account the "nonofficial" ones. You already know Freddy, Bonnie, Chica, and Foxy (nightmare version) but let me introduce you to Nightmare FredBear and Nightmare (plainly). All the animatronics in nightmare version are decrepit, broken, and especially scary. They have very long sharp teeth and glowing eyes, but Nightmare FredBear and Nightmare have even longer teeth, and they are very dangerous because they are unpredictable. This is especially true of Nightmare, since he is black and semi-transparent. They start appearing on nights 5 and 7, respectively.
Features
In this version, you can check out the main features of Five Nights at Freddy's 4:
A new story that reveals what happened in the Bite of the 87
A gloomy mini-game that allows you to skip the first two hours of the nights (if you are successful)
Nightmare version of the old and well-known animatronics (Bonnie, Freddy, Chica and Foxy)
4 new animatronics: Nightmare, Nightmare FredBear, Plushtrap and Nightmare Cupcake (Chica's cupcake can attack you know)
A new location
New mechanics based on the sounds
If you like this horror adventure, feel free to visit the developer's official website to discover all the features before you download it.
System Requirements
You can read here the minimum PC system requirements needed to download and play this game:
Operating System: Windows XP or later versions
Processor: AMD Athlon, Intel Pentium @ 2GHz or better
RAM Memory: 2 GB RAM
Hard Drive Space: at least 1 GB free available
Re: SunRise
Not sure if this is host related since this is the only theme that I can't use. Funny thing is that I have use older version without any problems

a 500 e...
WordPress 5.2 Beta 3
WordPress 5.2 Beta 3 is now available! This software is still in development, so we don't recommend you run it on a production site. Consider setting up a test site to play with the new version. There are two ways to test the latest WordPress 5.2 beta: try the WordPress Beta Tester plugin (you'll want […]
XOOPS PHPMailer Security Patches Released
The
XOOPS Development Team
is pleased to announce the release of
security patches for XOOPS 2.5.8 and XOOPS 2.5.7.2.
These patches includes the latest version of PHPMailer to address a serious vulnerability. All XOOPS users are encouraged to update as soon as possible.
Both full distributions and patch files (from the most recent prior release) for both the 2.5.7 and 2.5.8 series are available.
Any users that are running older XOOPS versions are advised to update to
XOOPS 2.5.8.1
now.
Get XOOPS 2.5.8.1
Release files are available on
GitHub
.
The 2.5.8.1 files are also mirrored on the
XOOPS File Repository on SourceForge
Get XOOPS 2.5.7.3
Release files are available on the
XOOPS File Repository on SourceForge