News
March 2017 Update
Wait! March already? Where did December go?
Is it too late to wish you all a happy new year? Probably. Yes…
However, it's not to later to deliver a Happy 2017!!
Since we last wrote a news post we have had a bunch of releases: 6.7.8-stable, 6.7.9-stable, 6.7.I0-stable, 6.7.II-stable… and that was just for the 6.7.x branch.
Then came a whole new 6.8.x branch: 6.8.0-beta, 6.8.1-stable, 6.8.2-stable, 6.8.3-stable, 6.8.4-stable, 6.8.5-stable, 6.8.6-stable, 6.8.7-stable… and 6.8.8 is just around the corner!
A lot of releases, right? Indeed. We have switched to releasing more often, and we try to deliver as many bug fixes as possible as quickly as possible. Thank you all for your bug reports, and as always thank you for including screenshots which make it easy for us to narrow down on the problem much quicker.
Now let's not forget new features! 6.8.x was packed with new features and the recently released 6.9.0-beta adds another layer. 6.9.1 is also just around the corner with some more.
Here are a few of our favorite new features added in 6.8 and 6.9:
Ability to attach files to new posts in the front office (useful for forums) and in the back-office without saving post first
Ability to attach an image to each category and to use it as a fall-back for posts without an image in the Universal Item List Widget
Ability to attach an image to image and logo widgets instead of providing a relative filepath
Added [audio:...] short tag
Single post display is now controlled through widgets
Analytics aggregation can keep infinite history of visits in the DB. See Global Hits Summary
PhpBB3 Import
… and a lot of usability improvements.
Next stop: 6.9.1! And that's a loaded one! Stay tuned! ;)
Help us Celebrate Community Heroes. Join the Community Spotlight Committee
TL:DR; Our community is full of amazing people. Let's celebrate them. Join the Community Spotlight committee to review community-nominated heroes so we can recognize and celebrate those who have contributed to Drupal in special ways.
+++++++++++++
Drupal is a single expression of collaboration amongst thousands of people from around the world who are passionate, smart, and caring. They donate countless hours, moving the project forward by contributing code, mentoring new contributors, writing documentation, organizing camps, sharing knowledge, and so much more. These selfless acts are Drupal's lifeblood and deserve being celebrated and appreciated.
It's clear from a recent #drupalthanks twitter-fest that our community is eager to show their appreciation for each other. That is why, the Drupal Association, with the help of Lyndsey Jackson, is re-launching Community Spotlight, a program that highlights community-nominated heroes who have contributed to the project in a special way. This program went on hold last year when the Drupal Association downsized, making the organization more sustainable. Lyndsey offered to bring the program back by forming a committee who will select nominees to be highlighted on Drupal.org and through Drupal Association communication channels.
The Drupal Association is thankful for Lyndsey's passion for celebrating the community and for making time to bring Community Highlights back. Lyndsey has a great vision for the program. In her own words, she says: "We want the Community Spotlight to represent a shared story or an experience that will resonate and connect with where the community and the project is at that point in time. We want to highlight the depth of experience that exists, and the evolving potential through emerging leaders and new energy"
Will you join the Community Spotlight Committee?
Lyndsey is creating a Community Spotlight committee to drive this important program forward. It will consist of 3-5 people with diverse backgrounds. They will review the community-nomination forms and pick who we will celebrate. They will also help convert the nomination form into a blog post, which the Drupal Association will promote. The monthly time commitment would be about 2-4 hours. This group also has the autonomy to evolve the program. I'm sure there are many ways we can improve how we celebrate our community.
To join this committee, please complete this form.
e107 v2.1.6 Bootstrap CMS Released
We're happy to announce the release of e107 v2.1.6!
This release contains some great improvements as well as bug fixes. We recommend everyone upgrade immediately.
Fixes/Improvements:
TinyMce updated to 4.5.6
PHP Mailer Upgrade to 5.2.23
Improvements to sending email procedure (SMTP)
Bug fixes to plugins: Chatbox, Downloads, FAQ, Featurebox, Forum
News: meta-description character limit option added. ie. {NEWS_DESCRIPTION: limit=x}
Downloads: now supports file in root directory (no longer 'parent > child" needed)
Several fixes to SEFL URLs, including automatic generation
Numerous LAN enhancements (thanks @yesszus)
Caching improvements
Improvements to meta-tags
Further fixes for PHP 7.1 compatibility
Fixes to the backup/export functionality
Javascript files are now moved to the footer
Improved logging to system logs (especially SQL queries)
Improved sessions handling (should prevent sudden logout)
And literally dozens of other bugfixes and optimizations
New features:
Language-Packs can now be downloaded and installed without leaving the admin area
New MySQL method selectTree()
New constant e_HTTP_STATIC
New constant e_VERSION which returns the currently installed version of e107
Custom TinyMCE snippets can now be placed in the theme folder as custom templates: templates/tinymce/snippets
Ability to override site path (hash) by defining $E107_CONFIG['site_path'] in e107_config.php
Table data from e107 v1.x "Content Management" plugin can now be imported into "Pages/Menus"
For a full list of changes, please go here.
Please see our downloads section to download a copy.
Thank you for continuing to use e107!
DokuWiki Plugin v1.9.0
The Geeklog DokuWiki Plugin v1.9.0 is now available for download.
The DokuWiki Integration Plugin for Geeklog provides an integration with your Geeklog v2.1.1+ website. This plugin is based on DokuWiki 2016-06-26a "Elenor of Tsort", " which is the latest release at the time of this writing.
If you find any bugs or wish to request a feature, please add them to our issues tracker.
Joomla! 3.7.5 Release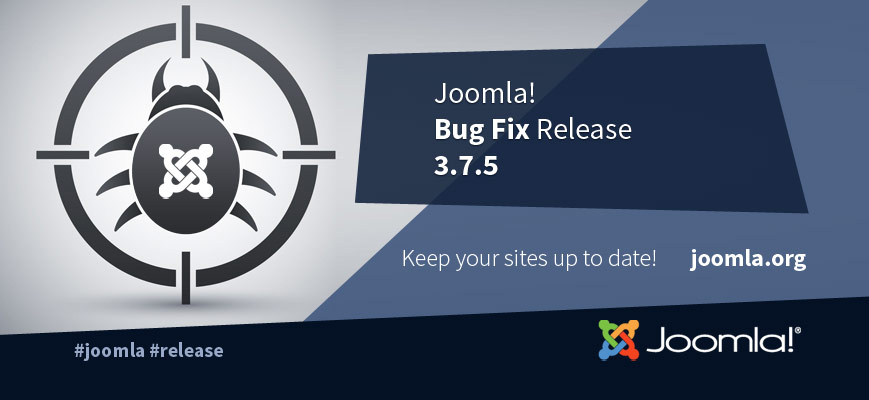 Joomla! 3.7.5 is now available. This is a bug fix release for the 3.x series of Joomla! which addresses a single bug that prevents new installations of Joomla! 3.7.4 with remote databases.
Nucleus CMS is Back (Sort of)
Despite project close announcement one and a half years ago, some enthusiastic Japanese developers and users have been maintaining Nucleus CMS core.
And today, we are pleased to announce Nucleus CMS 3.70. This is a direct descent of the original Nucleus CMS, supports the same multiple languages.
Major fixes and improvements in this release are including (but not limited to) the following:
Enforced password security using phpass library instead of md5 hash
Default character code set is now utf-8, not iso8859-1
Added new event PreLoadMainLibs
Upcoming version 3.71 is pre-released in Japanese as well. New features in 3.71 are:
Fixed vulnerability described in VCE-2011-3760.
Support for PHP7 (Fixes in installer, embedded wrapper for mysql functions, etc.)
[New] Duplicate Item button in the item list screen
[New] Now you can arrange category order
... and more!
Nucleus CMS 3.70 is available for download from
download page
.
You are always welcome to post suggestions and questions for Nucleus CMS in the same old
English support forum
.
Also, all the core and major plugins are now maintained on
GitHub
. Please feel free to submit issues and of course pull requests.
Beside this code base, LMNucleus a fork from Nucleus by Leo is also available at
http://nucleus.slightlysome.net/
and
GitHub
.
Cheers, and happy blogging!
The Japanese Nucleus Team
phpBB 3.2.1 Release - Please Update
Greetings everyone,
We are pleased to announce the release of phpBB 3.2.1 "War for the Planet of the Berties". This version is a maintenance & security release of the 3.2.x branch which fixes three security issues, as well as adding more hardening and fixes for various bugs reported in previous versions.
A server-side request forgery (SSRF) exploit was discovered in the remote avatar functionality which could be used to perform service discovery on internal and external networks as well as retrieve images which are usually restricted to local access (thanks to SEC Consult for the report). Additionally, a cross-site scripting vulnerability via version check files was discovered internally (thanks Derk Ruitenbeek). This could have been used to trick users into clicking on
javascript:
links. The third fixed issue concerned potential high load scenarios that could be caused by specially crafted search queries while using MySQL fulltext search.
The bugfixes address issues with migration dependencies preventing updates from phpBB 3.0.6 or older, multiple issues with the new text formatter, make the FTP update method functional again, as well as issues with updating from earlier versions using PostgreSQL. Notable changes include new, higher resolution images for the imageset icons, pagination for IP tables and post info, and added search indexing for topics after splitting a topic. The version check now also supports branches which will result in more helpful information about new versions on other branches.
The full list of changes is available in the changelog file within the docs folder contained in the release package. You can find the key highlights of this release on the wiki at
https://wiki.phpbb.com/Release_Highlights/3.2.1
and a list of all issues fixed on our tracker at
https://tracker.phpbb.com/issues/?filter=14100
The packages can be downloaded from our downloads page.
The development team thanks everyone who contributed code to this release: javiexin, rxu, Rubén Calvo, nomind60s, David Colón, Jakub Senko, hanakin, Matt Friedman, JoshyPHP, Louis7777, kasimi, Vinny, Erwan Nader, Richard McGirr, hubaishan, Daniel Mota, Jim Mossing Holsteyn, Rishabh04-02, Saeed Hubaishan, david63, lavigor, Agris, Christian Schnegelberger, Daniel Sinn, Mukesh Kumar Kharita, TarantinoMariachi, lr94, tas2580, upstrocker
If you have any questions or comments, we'll be happy to address them in the
discussion topic
.
- The phpBB Team
Plone welcomes four students for the 2016 Google Summer of Code
We welcome these promising students exemplifying great diversity in geography and topics, and wish them a great Summer of Code!
Five Nights at Freddy's 4 Full Version - Feel the fear one last time
Review
Five Nights at Freddy's 4 is the fourth, and last (supposedly) release in the Five Nights at Freddy's saga. Developed and published by Scott Cawthon, this horror game has delighted all the fans of horror games, and has also raised the criticism from those that say that there are too many FNaF games. This time, you are not a security guard fighting for your life against creepy animatronics. Instead, you are a defenseless kid who struggles every night because of his terrifying nightmares (nightmares about creepy animatronics, of course).
Now, animatronics don't kill you, because they are just nightmares, but they can scare you as they have done since forever. Freddy, Bonnie, Chica, and Foxy have come back, and they have brought new nightmare friends with them. Also, the location is not an office anymore. It takes place in your own room, a room with a bed, two doors, and a dark closet. Each part of the room is dangerous since they are places where the animatronics can hide.
Moreover, the mechanics of the game have significantly changed compared to the previous tree installments in the saga. Now, you do not depend on your vision, or the cameras, because in this release, you don't have them. Now, you have to hear; you have to pay attention to every sound, breath, and laugh, because sound indicates where enemies will come from. It's recommended to play with earphones or with a very high volume. You are free to play with a regular sound volume, but you will not be able to hear your enemies.
Are you ready to say goodbye to your beloved animatronics?
As mentioned, the mechanics have changed. Now, you have nothing more than your senses and a flashlight to defend yourself. You have to control both doors, the closet, and the bed behind you. Animatronics can appear in any of the four places. What you have to do is walk bravely to the doors and the closet, listen carefully and if you hear something, close the door as fast as you can and hold it shut until the sound disappears. In case you don't hear anything, use the flashlight to prevent enemies from coming. The bed at your back has a little Freddy fluffy toy, but sometimes dreadful miniature Freddy's appear, followed by Nightmare Freddy himself. You have to shoo them with the flashlight unless you want Freddy to appear. It can seem easy, but the slightest mistake (using the flashlight when you hear a breath, or not closing the doors in time), will bring an end to the game.
Freddy, Bonnie, Chica, and Foxy have come back, and they have brought new nightmare friends with them
Talking about your friends the animatronics, when you download FNaF4, you will have to face six of them, eight if you take into account the "nonofficial" ones. You already know Freddy, Bonnie, Chica, and Foxy (nightmare version) but let me introduce you to Nightmare FredBear and Nightmare (plainly). All the animatronics in nightmare version are decrepit, broken, and especially scary. They have very long sharp teeth and glowing eyes, but Nightmare FredBear and Nightmare have even longer teeth, and they are very dangerous because they are unpredictable. This is especially true of Nightmare, since he is black and semi-transparent. They start appearing on nights 5 and 7, respectively.
Features
In this version, you can check out the main features of Five Nights at Freddy's 4:
A new story that reveals what happened in the Bite of the 87
A gloomy mini-game that allows you to skip the first two hours of the nights (if you are successful)
Nightmare version of the old and well-known animatronics (Bonnie, Freddy, Chica and Foxy)
4 new animatronics: Nightmare, Nightmare FredBear, Plushtrap and Nightmare Cupcake (Chica's cupcake can attack you know)
A new location
New mechanics based on the sounds
If you like this horror adventure, feel free to visit the developer's official website to discover all the features before you download it.
System Requirements
You can read here the minimum PC system requirements needed to download and play this game:
Operating System: Windows XP or later versions
Processor: AMD Athlon, Intel Pentium @ 2GHz or better
RAM Memory: 2 GB RAM
Hard Drive Space: at least 1 GB free available
Re: Husband and wife have a single email account
I've already heard back from her, and she says she doesn't want to fool with their email. She'll just log in as her husband. So, it's pretty much the "Thanks, but no thanks" syndrome.
I have a real problem demanding that someone create a new email add...
WordPress 4.8.1 Maintenance Release
After over 13 million downloads of WordPress 4.8, we are pleased to announce the immediate availability of WordPress 4.8.1, a maintenance release. This release contains 29 maintenance fixes and enhancements, chief among them are fixes to the rich Text widget and the introduction of the Custom HTML widget. For a full list of changes, consult the release […]
XOOPS Modules Tutorials in ReadTheDocs style
https://docu.xoops.org/mkdocs/modules/
First test to leverage XOOPS module tutorials created with Gitbook , to create a site for our tutorials in the style of "ReadTheDocs":
What do you think?
We need docs writers and translators! Can you help?
Since this was just a test, some of the links inside the tutorials might not work. With your help, we will fix it!
This was our announcement about using Gitbook as the tool for our documentation, and it's good that we can now leverage this tool to create other styles of documentation, like the ReadTheDocs style!
For the people who would like to help us:
1) We have documented the XOOPS Documentation Process, so please review it and let us know if it works for you
2) We have created a "XOOPS Docs Starter Kit" with a predefined folder and file structure, that you can use to jump-start your project
We hope that once you realize how easy it is to contribute, you'll help us to make XOOPS Documentation really shine!!!
Viva XOOPS!