News
September 2020 update
b2evolution v7.2 is considered very stable now and used by many users as well PRO clients.
You can find b2evolution v7.x in the download area.
We also made a quick video to show v7 (others should follow):
Please note we will stop supporting b2evolution v6.x by the end of September 2020. If you haven't done so yet, we recommend that you upgrade to b2evolution v7 now. There are no specific issues with upgrading from v6 to v7. The v6 skins will work without modification on v7.
Everyone Stay Safe! ;)
DrupalCon North America 2021: Keynote speakers making a positive impact in open source and beyond
This year's DrupalCon North America 2021 keynotes highlight the power of the global Drupal community to make a difference in some of the most crucial issues of our time and the future of digital experiences. Register today.
The Drupal Association is planning a blockbuster event for DrupalCon North America, the most widely attended Drupal event, 12-16 April from 11:00 - 15:00 EDT daily. This year's all-virtual event brings together Drupal experts, enthusiasts, end users, and the broader open source software community to connect, collaborate, and contribute to advancing Drupal - the world's leading open source digital experience platform (DXP).
Heather Rocker, executive director of the Drupal Association states, "Our global community of developers, marketers, and business leaders come to DrupalCon to connect, learn about the experiences of their peers, and share their own expertise. DrupalCon participants also benefit from the opportunity to learn from our keynote and featured speakers. This year, those topics include the role of open source in schools to close the digital divide, the importance of allyship in developing diversity and inclusion, building successful mentorship for people of color in tech, and understanding digital rights as human rights."
Featured keynotes will highlight inclusion, closing the digital divide, and the Drupal platform's future.
Sheree Atcheson, Global Diversity, Equity & Inclusion Leader
Allyship—the key to unlocking the power of diversity
Monday, 12 April 12:10-12:40 EDT
Atcheson, an industry-leading voice on diversity and inclusion in tech, will talk about the importance of intersectional allyship in creating inclusive environments and technology. She'll offer tips on how everyone in any role can actively consider, champion, and advocate for others in their work and be more inclusive in their day-to-day lives.
Atcheson has been named one of the UK's Most Influential Women in Tech and has received multiple international awards for her work to advance diversity and inclusion in the tech industry.
Dries Buytaert, Founder, Drupal
Driesnote
Wednesday, 14 April 12:30-13:50 EDT
A much-anticipated highlight of DrupalCon, Buytaert, Drupal's founder, will deliver his annual talk celebrating Drupal successes over the past year, outlining the state of the Drupal project now, and offering his thoughts on what's next.
Buytaert is the original creator and project lead for Drupal, an open source platform used around the world to build websites and digital experiences, as well as co-founder and chief technology officer of Acquia, a venture-backed technology company.
Stuart Keroff, Social Studies and Technology Teacher, Aspen Academy
School needs open source, now more than ever
Friday, 16 April 14:20-14:50 EDT
Technology educator Stuart Keroff, founder of the first two middle school Linux clubs in Minnesota, has spent the last 10 years guiding middle school students to use open source as a tool to close the digital divide in education. He and his students will share how they used open source software to recycle computers for their fellow students during COVID-19 school closures.
To date, he and his students have provided over 600 Linux computers, helping students learn while also saving money for their schools.
New this year - participants can attend keynote sessions dedicated to strategic Drupal Initiatives:
Decoupled Menus
Tuesday, 13 April
This initiative is focused on developing an easy-to-integrate solution for JavaScript front ends to consume configurable menus managed in Drupal—a key enhancement for developers. This is the first step in standardizing best practices for Decoupled Drupal.
Easy Out of the Box
Wednesday, 14 April
This initiative is designed to refine improvements introduced in the Drupal 9 release and enable new features that can make Drupal even easier to use.
Automated Updates
Thursday 15 April
This initiative is all about implementing a secure system for automatically deploying safe, secure updates for Drupal sites—a crucial enhancement for Drupal service providers and end users.
Drupal 10 Readiness
Friday, 16 April
This initiative is our effort to update and enhance the platform to enable a smooth, secure transition to Drupal 10, which launches in 2022.
Invest in your career, register today
The global pandemic has increased pressures around work-life integration, so DrupalCon 2021 is built with flexibility in mind. Each day is streamlined with 4 hours of live content, and the virtual setting allows easy participation in the featured keynotes, small group discussions, and interactive skill-building sessions most relevant to you.
Tickets are $245 per attendee and include access to all DrupalCon events, premiere access to the session recordings, as well as admission into the industry summits of your choice (higher education, healthcare, nonprofit, and government) held throughout April. Registration details, as well as additional speaker and session information, are available at https://events.drupal.org/northamerica2021
DrupalCon is brought to you by the Drupal Association in collaboration with a team of dedicated contributors and sponsors, including Diamond Sponsors Acquia, Pantheon, and Platform.sh.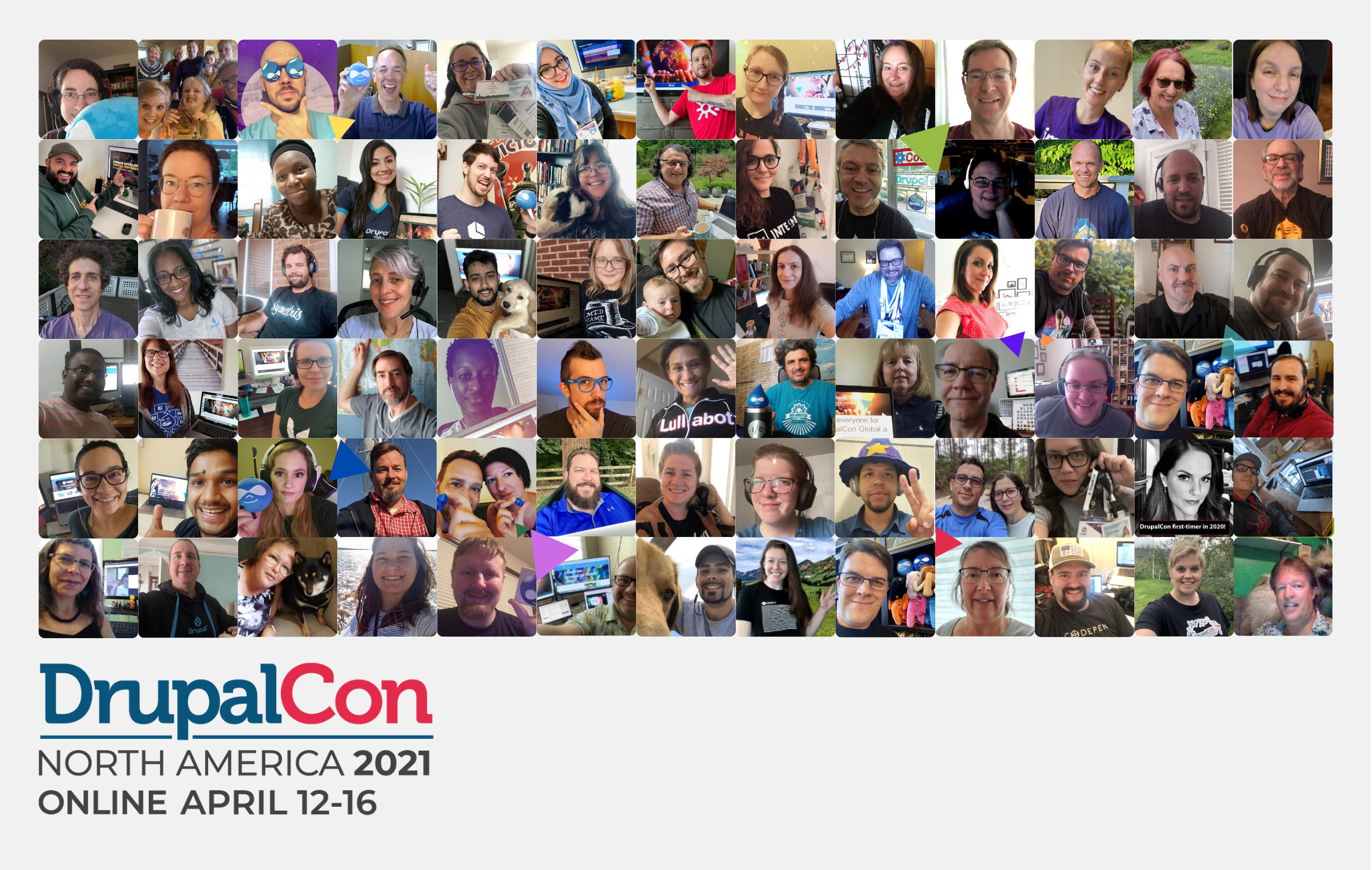 Geeklog Plugins that Support v2.2.1
Here is a list of the latest plugins to receive updates since the release of Geeklog v2.2.1sr1. Some of these plugins will require this version.
Please note, we will continue to add to this list as plugins are released.
Here is a list of updated plugins expected to be release in the next few months:
These updated plugins support PHP 7.0+ and also contain new features and bug fixes as well. Please visit the download page of the specific plugin to find out more information. The plugins above can also be found on Github in our Geeklog Plugins Repository.
Updated: 2020-04-22 - Please note, that the new reCaptcha Plugin included with Geeklog v2.2.1 is not compatible with how the old reCaptcha plugin determines whether to display the reCaptcha or not on a page. This means older versions of plugins like the Forum that uses reCaptcha will either have to be updated to version 2.9.4 or the older plugin's code will have to have a small manual update (only if you want the reCaptcha to be used). See this Forum post for more information on the code you need to add to your older plugins if you want it to continue to use reCaptcha with it.
For a list of plugins that where updated after Geeklog 2.2.0 was released back in June of 2018, please see the article titled: Geeklog Plugins that Support v2.2.0.
All of these older plugins will work with Geeklog v2.2.1 as well.
Developers if you have a plugin which supports Geeklog v2.2.1 which has not been included in the list above please comment on this article to give us more information, and we will add it in. Remember you can also submit an article (and upload the file) about your plugin and after review (and editing if required) we will post it on Geeklog.net.
Joomla 3.9.26 Release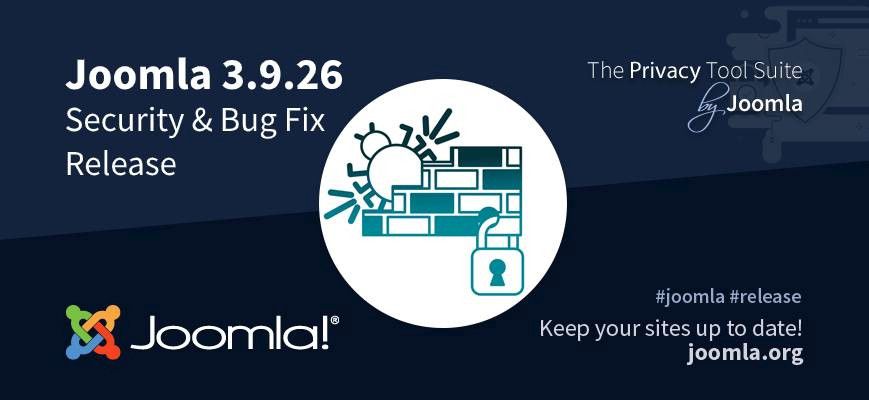 Joomla 3.9.26 is now available. This is a security release for the 3.x series of Joomla which addresses 2 security vulnerabilities and contains more than 30 bug fixes and improvements.
Nucleus CMS is Back (Sort of)
Despite project close announcement one and a half years ago, some enthusiastic Japanese developers and users have been maintaining Nucleus CMS core.
And today, we are pleased to announce Nucleus CMS 3.70. This is a direct descent of the original Nucleus CMS, supports the same multiple languages.
Major fixes and improvements in this release are including (but not limited to) the following:
Enforced password security using phpass library instead of md5 hash
Default character code set is now utf-8, not iso8859-1
Added new event PreLoadMainLibs
Upcoming version 3.71 is pre-released in Japanese as well. New features in 3.71 are:
Fixed vulnerability described in VCE-2011-3760.
Support for PHP7 (Fixes in installer, embedded wrapper for mysql functions, etc.)
[New] Duplicate Item button in the item list screen
[New] Now you can arrange category order
... and more!
Nucleus CMS 3.70 is available for download from
download page
.
You are always welcome to post suggestions and questions for Nucleus CMS in the same old
English support forum
.
Also, all the core and major plugins are now maintained on
GitHub
. Please feel free to submit issues and of course pull requests.
Beside this code base, LMNucleus a fork from Nucleus by Leo is also available at
http://nucleus.slightlysome.net/
and
GitHub
.
Cheers, and happy blogging!
The Japanese Nucleus Team
phpBB 3.3.3 Release
Greetings everyone,
We are pleased to announce the release of phpBB 3.3.3 "Bertie Triple Distilled". This version is a maintenance release of the 3.3.x branch which adds support for MySQL 8 and PHP 8, and resolves various issues reported in previous versions.
Starting with this release we will officially support installations of phpBB when using MySQL8 and/or PHP 8. Please ensure that any installed Extension is also compatible before attempting an upgrade to either of these.
The fixed issues include, among others, an SQL error occurring on empty data in profile fields of type number, and dropdowns not working correctly in mobile view.
In addition to that, we have started to use GitHub Actions for running our automated tests as part of our Continuous Integration (CI) process. Our Customisations Team has prepared instructions on
how to use GitHub Actions to test Extensions
in order to assist Extensions developers with setting up their own CI.
Another change that might affect Extension authors is the switch to using Composer 2 in phpBB. Due to the way autoloaders are included from Extensions, it's currently not possible to also use Composer 2 inside Extensions. Until this issue has been resolved, please keep using Composer 1 for your Extensions.
The full list of changes is available in the changelog file within the docs folder contained in the release package. You can find the key highlights of this release on the wiki at
https://wiki.phpbb.com/Release_Highlights/3.3.3
and a list of all issues fixed on our tracker at
https://tracker.phpbb.com/issues/?filter=15590
The packages can be downloaded from our downloads page.
The development team thanks everyone who contributed code to this release: rxu, 3D-I, Alec, JoshyPHP, Billy Noah, G-T-I, Joshua Angnoe, Mark D. Hamill, Matt Friedman, Toxyy, Oliver Tseng, kasimi, pasha, teokolo
If you have any questions or comments, we'll be happy to address them in the
discussion topic
.
- The phpBB Team
8Belts ¿Qué debo saber sobre este popular método?
Luego de intentar aprender inglés con varias aplicaciones y cursos tradicionales sin éxito alguno, decidí darle una oportunidad a 8Belts. Este curso se ha hecho
Re: ezPortal
Just installed v5.0.1 onto an otherwise clean SMF 2.1RC3 install and every time I click on Admin >gtgt Permissions I get the following 4 errors in the error logs...
[code]Type of error: Undefined
8: Undefined index: permissiongroup_ezportal
https://***/i..
WordPress 5.7.1 Security and Maintenance Release
WordPress 5.7.1 is now available! This security and maintenance release features 26 bug fixes in addition to two security fixes. Because this is a security release, it is recommended that you update your sites immediately. All versions since WordPress 4.7 have also been updated. WordPress 5.7.1 is a short-cycle security and maintenance release. The next […]
XOOPS PHPMailer Security Patches Released
The
XOOPS Development Team
is pleased to announce the release of
security patches for XOOPS 2.5.8 and XOOPS 2.5.7.2.
These patches includes the latest version of PHPMailer to address a serious vulnerability. All XOOPS users are encouraged to update as soon as possible.
Both full distributions and patch files (from the most recent prior release) for both the 2.5.7 and 2.5.8 series are available.
Any users that are running older XOOPS versions are advised to update to
XOOPS 2.5.8.1
now.
Get XOOPS 2.5.8.1
Release files are available on
GitHub
.
The 2.5.8.1 files are also mirrored on the
XOOPS File Repository on SourceForge
Get XOOPS 2.5.7.3
Release files are available on the
XOOPS File Repository on SourceForge